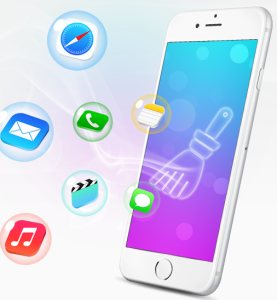 PhoneClean is an app for iOS devices which helps you get rid of junk like temporary files, scripts, and internet history to reclaim your storage and also speeds your iDevice in the process.
In this post, I will show you some reasons to use PhoneClean.
1. Securing Your Privacy
Everyone wants their privacy. Nobody wants their text messages to be read or spies see what they've been up to. PhoneClean makes your phone safe by thoroughly scanning it for messages, browsing history, cookies, call logs, caches and other private content on your phone, letting you delete what you think must not be on your device.
It's a fact that messages and emails deleted from your device don't actually get deleted. They get stored somewhere else and hence become retrievable. PhoneClean, however, digs deep enough into the system to locate and remove unwanted files.
2. Freeing Up Space with PhoneClean
PhoneClean is the only iOS utility which helps users reclaim lost storage space. Clearing your browsing history and caches does not only guarantee your safety but also saves you a lot of storage space. PhoneClean also removes corrupted and forgotten files such as interrupted app, music, and video downloads.
Even app crash logs which get duplicated very often are not left out in the deletion. PhoneClean claims to reclaim 40%-60% of your storage space, giving you more storage space to save your content.
3. Speeding Up Your Device
PhoneClean completely removes all types of caches (download, email, photo, SMS, and iMessages) and all types of non-associated media files. As a result of this, your "Other" files gets smaller and your device gets decluttered, making you experience the speed you desire on your iOS device.
PhoneClean also monitors your running background apps to make sure they don't take too much of your memory and then allows you to close all active apps at the click of a button. All these lets your device run at a significantly faster speed and, in addition, extend your battery life.
4. Optimize iOS with PhoneClean
iPhones, like other gadgets, get slow and sluggish after some time of use. This is due to the presence of cache files and other junk files clogged in the operating system. Even though iOS does a great job at optimizing itself, it hasn't gotten everything right yet. PhoneClean offers sophisticated tools and tune-up options to keep your apps fit and make your iPhone feel new.
5. Handy Toolbox
This is one more reason why you should use PhoneClean – It does not only clean junk off your device, but it also provides lots of tools to do tasks which are otherwise cumbersome to do manually.
PhoneCleans's toolbox lets you delete duplicate contacts, old notes and calendar reminders in one click. PhoneClean's Media Clean tool detects duplicated and corrupt media  files and gives you the option to delete them if you don't need them anymore. In addition, it recovers your unassociated or partially unsynced files and makes them re-playable on your device.
PhoneClean shrinks apps on jailbroken devices and deletes duplicated images used for both standard and retina displays.
PhoneClean Pricing
PhoneClean doesn't come free. But it is worth $19.99 a year. A personal and family license is available at a discounted rate. Click here to make your purchase.
PhoneClean is undoubtedly the best and only professional cleaning and optimizing application for iOS. Whether you want to delete your junk files, boost your memory or even backup your files, PhoneClean is the solution to all your needs. Give it a try and give us your feedback.