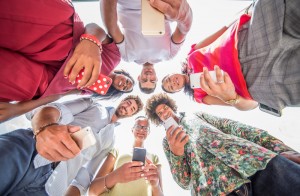 Cell phone addiction is the state of being devoted and inclined to your smart phone. According to PEW research center, using your smart phone frequently and carrying it everywhere you go culminates to cell phone addiction. The research reports are echoed by Psych Guides where they have found that a normal person should use his/her smartphone on average his or her phone 110 times per day. This kind of addiction can be explained as the unusual devotion to the phone. Today, every person can access websites, blogs and online social platforms at their comfort.
6 Astonishing Facts About Cell Phone Addiction
1. About 40% of Adults and 51% of Teens are Addicted to their Cell Phones
According to Psychology Today, this population feels uncomfortable without using their phones. The research says that this group often find themselves scrolling through and opening apps without any intent. Their subconscious minds pushes them to check the phone even though they hardly heard any notification. The report narrows down to gender and suggests that men are the most addicted (58% of the 40% cell phone addicts being men) while 47% of the same population are women. Another study carried out by Common Sense Media indicates that 51% of teens are addicted to their smartphones.
2. Most Smartphone Users Become Anxious When They Lose their Phones
Cellphones have been ingrained into our lives so much that losing or misplacing them for a couple of minutes makes us restless and anxious. This is according to the 2013 Mobile Consumer Habits report, a fact that is backed up by other various researches. SecurEnvoy research shows that 70% of women develops the 'phone anxiety syndrome' compared to 61% of males.
3. 75% of Smartphone Users Keep their Phones Within their Reach – Anywhere, Anytime.
The Consumer Habits research must have been an in-depth one. The report articulates that 75% of smartphone users can hardly keep their phones 5feet away from them. People tend to take their phones everywhere they go and in fact, some can return to pick them up if they happen to forget them.
4. Youths Are The Most Affected
Common Sense Media describes youths in relation to their phone addiction as 'Tech Zombies'. In their research, they found out that nearly 80% of teens (17-24) check their phones hourly and out of this group, 72% of them responded to SMSs and social media texts immediately. Teens don't want to be separated from their phones. The last and first things they do when they wake up is finding their phones, scrolling it checking notifications.
5. 95% of Cellphone Addicts Experience Ghost Vibrations  
Ghost vibrations are apparent, they only appear to be heard but do not exist. An Indiana University research shows that 95% of undergraduates have reported to have checked their phones for notifications having 'felt' the vibrations. It's funny but it does happen, in fact, very often than you may think.
6. Cellphone Addiction Has Compromised Parenting
Consumer Habits conglomerated decadal phone usage data and also analyzed various studies on phone addiction and found out that about 40% of parents spend their time on phone instead of carrying out their parenting roles. With Parents focusing so much on their cell phones, they tend to neglect the essentials of parenting – giving time to your kid and helping them do their homework.
Cellphone addiction is no difference from other types of addictions. In fact, there are rehabilitation centers for the same. It has physical and mental effects as other types of addictions such as drug addiction do. Most studies have linked cellphone addiction to relationship break ups and certain diseases – cellphones are 18 times dirtier than our bathrooms (Consumer Habit Report).