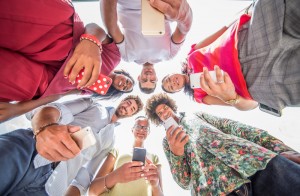 A lot of us depend on our smartphones for a lot of things. In fact, a recent study shows that more than 90% of Americans currently use a smartphone. But, could it be that you or a friend have crossed the line from enthusiastic or power user, to an addict? Let's talk about a few symptoms of smartphone addiction and how to recognize them.
Elevated dependence on your phone
There's a big difference between depending on your phone for work and depending on it to live. If you find yourself checking your phone repeatedly every few seconds, especially despite there being no new messages, you may have become psychologically dependent. This can lead to real stress and anxiety that manifests itself in real-life relationships.
Preoccupation with the phone
Do you think you could go without your phone for a day or more? What if you were without it for a week? If all you can think about is what you see on your phone, be it notifications and messages from friends or fantasy football scores, then you may be exhibiting signs of addiction.
Being inseparable from your device
Many people are so attached to their phone that they can't even get into bed without having it next to their pillow. Others can't sit down to enjoy a meal without having their phone out or on the table. This is a classic demonstration of excessive dependence, and a clear sign of addiction. The results include lack of sleep, heightened stress, and at times even insomnia that can become chronic.
Needing your phone during real-life interactions
Many people, while conversing or just being around another person, need to go to their phone to escape awkward silence or uncomfortable situations. If someone mentions something to you that upsets you, or perhaps things become uncomfortable, do you find yourself burying your face in your phone so to speak, preferring to check your notifications or scroll through Instagram instead of confronting a situation? This is also an indication of addiction.
Relationships damaged by phone use
Someone, especially a mate or family member, saying "all you ever do is look at your phone!" may not be an exaggeration. Ask yourself, "Has the use of my phone caused stress on any of my personal relationships at work or at home?" If you've had an argument recently that centered specifically on the amount of time you spend on your phone, it could be a serious issue.
Unreasonable tolerance or acceptance
What we mean by this is, perhaps it's not surprising at all to you that the newest smartphones coming out cost more than what you would reasonably be able to afford. Justifying high prices, especially ones outside your budget, with reasons like "well, with that phone I could…" could indicate that your reasoning is not based on real life facts. This unrealistic view on finances can eventually lead one to go into debt or make rash decisions about purchases.
Honest self-examination is needed to determine if you or a loved one is really addicted to their smartphone. Addiction can manifest itself in various different symptoms, but thankfully it is an addiction that can be broken. Knowing how to recognize the signs is half the battle toward regaining balance and fighting addiction.