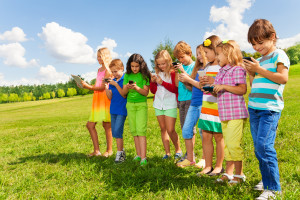 Two player local multi-player games for Android are often an overlooked gem, hidden among the trove of MMO's, puzzle, strategy and adventures games on offer.
Two player local multi-player games on your phone, or even better your tablet, are quick, fun and often highly addictive. Given the size constraints, certain games may be harder to play on devices with smaller screens but for anyone with a mid-sized to large display these games are perfect.
A 7-inch tablet guarantees high-paced, frustration free gaming whilst 10-inch Android tablets take fun to the next level. The larger display even allows for four player to play at once in some games!
Take a look below at our recommendation of five fantastic 2 player local multi-player games for Android that you simply have to try today, after all they're free!
2 Player Local Multi-player Games for Android
2-Player Reactor
2-Player Reactor, and the paid upgrade 4-Player reactor, gives you a set of quick, easy mini-games in which you compete for score, testing your mental, visual and physical reflexes. Games range from simple math's equations, to spot-the-difference, with one game lasting ten rounds.
There is currently a rotation of seventeen mini-games and more games are constantly being added. You and your opponent play on the same device, at opposite ends of the screen, hoping to win the round by being the first to answer the question.
2-Player Reactor is a reaction game that makes for a great way to pass the time, just be careful that you don't play too many rounds, this simplistic game is highly addictive.
Micro Battles 2
This dead-simple 2-player same-device game could easily be overlooked as a result of its 8-bit graphics, but don't be fooled! Micro Battles 2 is a 2-player collection of four mini-games, played with just one on-screen button for each player, and the retro-simplicity makes for a set of games that you just don't want to put down.
Free users are limited to a daily "free spin", randomly choosing the game available for the day, with the others locked. You will have the choice to either play a tank based game, whereby tapping and tapping and holding controls both forward movement and the firing, first to five points wins.
In the second game you each control a frog, aiming to reach five points first by hopping into flies on-screen, tap, hold then release to hop.
Thirdly you duel as pirates, aiming to off each other five times with a sword, this is a favorite of many.
Lastly you play a simple space shooter. Given the addictive nature of this game, many opt to purchase it to be able to pick what they want to play. All four games are lots of fun though, making this a fantastic 2 player game for Android.
Glow Hockey 2
Air hockey is addictive enough in real life and now you can play it on your Android too! Glow Hockey 2 is air hockey on your Android for two players.
Basically Pong on steroids, this air hockey game is easy to pick u and play, but it grows on you, driving you to hone your skills as you begin to play more and more. Game-play is smooth and responsive.
This game does not have many features, owning just one game mode, but this does not detract from the high-paced fun. Great sound affects combine with beautiful visuals to add a bit of polish to the timeless style and re-playability of classic Pong style games.
What`s your favorite 2 player Android game?