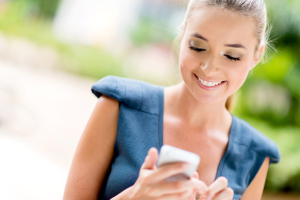 Using the PC and the phone together and at the same time can sometimes be inconvenient, especially when you are far away from the latter. You wish you could read and reply to your texts directly on your computer. Switching off the phone in order to concentrate on the PC may be a solution but it comes at the cost of missing text messages you are likely to receive.
There are a few ways of reading your text messages on your computer, without having to touch your phone. I've tried a handful of Android apps and utilities for this. Continue reading to see the possible ways to read text messages on your computer.
3 Android Apps to Read Your Text Messages On The Computer
1. Pushbullet for Android
Pushbullet is a great Android app which forwards your incoming text messages from your phone to your Windows, Mac or Linux computer and also lets you send text messages from your computer to your contacts. Setting it up is simple.
Download Pushbullet to your Android phone. Open it and go through the initial setup process.
Download the extension for your Chrome, Firefox, Opera or Safari browser and sign in with the same credentials you used on your phone. You can do same with the Windows and Mac.
To send a text, click on the Pushbullet extension icon in your browser, select the SMS tab, then compose and send your text message. Click send when you're done.
When you receive a text message on your phone, you see a message notification on your computer. Click on the Reply button and type your message in the popup window. Hit Enter and the text will be sent.
NB: Both your phone and computer need to online for this to work. It works better if both devices are on a wireless LAN.Pushbullet also lets you reply to WhatsApp, Hangouts and a bunch of other mobile messaging apps right from your computer.
2. AirDroid
AirDroid is another great app which lets you send and reply text messages on your computer. Just like Pushbullet, you have to install the app on your the phone and then use the web application alongside. The better thing is, you get to read previous text messages just as you would on your phone. You can also play your music, install apps and do other cool stuff in your web browser with Android. To set up AirDroid for SMS, follow the following steps:
Install the AirDroid app from the Google Play Store.
Access the web client in your browser by visiting http://web.airdroid.com/ or the IP Address displayed in the app. Confirm access to your phone if it's requested.
Click on the Messages icon to access your phone's messages. You also get notified when you receive an SMS and you can reply in the browser.
3. Mightytext
This is one of the most popular apps for sending and replying text messages from your computer. It sends you send both SMS and MMS messages from your computer and tablet and also notifies you when you receive WhatsApp, SnapChat and Instagram messages. Some of it's other features include Photo Editing, Themes, Message Scheduling, Calling Notifications and much more.
Go to http://mightytext.net/install and enter your phone number for the application to be sent to your phone. If you're using a tablet, go here.
Install the Firefox (Mac) and Chrome extension or Safari, Opera for the web version.
Launch the extension in your browser to access the web
Start sending SMS on your PC, Mac or Tablet using MightyText.
MightyText has a pro version when lets you send bulk SMS, block numbers, and more. It costs $3.3/Month annually and $4.99/Month monthly.
These are just a few of the best ways to read/send text messages from your computer. MightyText is apparently the most used application but personally, PushBullet is my favourite. Each application, however, has its own different set of features which you may prefer to others.
If you have been able to send or read your first SMS from your computer, feel free and share your experience with us.