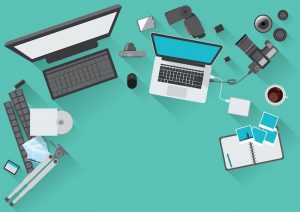 It doesn't matter whether you're a hobbyist or a professional photographer; you always want the fastest and most efficient way of transferring photos from your camera to your phone. So what exactly is the fastest and most efficient way to do that? Well, that depends entirely on the available tools you have.
In this article, we'll be going through the fastest ways you can transfer photos directly to your phone.
3 Fast Ways to Transfer DSLR Photos to Your Android Phone
1. OTG Adapter
Let's go old-school and do things the old-fashioned way. Cameras and SD cards with wireless capabilities are on the rise and is probably one of the better options you have when transferring photos but let's start here. OTG simply means On the Go and it's a USB adapter which is easy to find online or your nearby shop. To use it you'll also need a USB cable for your camera or an SD to USB adapter.
Simply plug it into your Android phone and attach the camera or SD card adapter to the OTG adapter. Pull down the notification menu, tap Options, and select Photo transfer. This will be fairly easy for you, especially if you're a veteran with the Android OS.
2. Wireless SD Cards
It was only a matter of time until photographers welcomed wireless SD Cards into their cameras. They're awfully handy just because of the fact that they're wireless and have Wi-Fi functionality. However, there are a few drawbacks to this and may just be enough reason for you to change your mind. First, these wireless SD cards are so expensive it's almost outrageous.
They cost about 4 or 5 times more than a regular SD card of the same size so it really depends on you if it's worth it or not. Next is the battery consumption of the wireless SD cards. Since they use Wi-Fi, they require more power and drain your camera's battery pretty fast. If you prioritize wireless transfers though, then this just might be for you.
3. Cameras with Wireless Functionality
If you've recently bought a decent camera, chances are it comes with wireless functionality. These cameras make use of a Wi-Fi connection to transfer photos and all you need to do is connect your phone and camera to the same network.
This is easily the fastest and most efficient way to transfer photos between your camera and your phone but then that's only if you have a camera that has the feature. So if you have an old camera that doesn't support wireless transfer you probably need to buy a new one and if you don't have one yet, now's the perfect time to get one!
Take Your Pick
These are 3 of the fastest ways you can transfer photos from your camera to your Android phone and you know which one is our favorite! Cameras with wireless functionality are your best bet when it comes to ease and speed so you should definitely think about getting one if you're serious about photography!