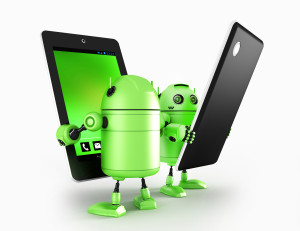 No matter how powerful your Android phone or tablet, prolonged use will eventually led to a slow-down in your general system speed. There are apps flooding mobile market places, all making claims of enhancing your performance, but very few actually get the job done.
With a little bit of research and testing we have compiled a list of the top three apps that you can use to speed up your Android phone. These great tools are an asset to any Android owner, regardless of whether your device is old or new. Take a look below for our Top 3 Free Apps to Speed up Your Android Phone.
 3 FREE Apps to Speed up Your Android Phone
1. Advanced Task Manager
Advanced Task Manager is one of the most complete maintenance and optimisation applications available on any platform. It is packed full of features than allows you complete control over how you want you Android to function.
Advanced Task Manager has an extensive selection of tools available, greatly assisting you to speed up your Android phone or tablet. I cannot find a flaw with these outstanding app, each tool functions fluently and carries out its function perfectly.
Memory boosting features actually work, granting a noticeable performance increase, whilst functions such as the cache and memory cleaner are easy to use and complete their task quickly.
The amount of features that this great app puts in your hands makes it a great choice for any user. From scheduling to maintenance and management, Advanced Task Manager gives you everything that could be expected of an all-in-one Android booster!
Advanced Task Manager Features:
Task Killer
RAM Cleaner
Antivirus
Quick Uninstaller
Total System Optimizer
Start-up Application Manager
Permission Manager
Support for All Android Versions
2. Startup Manager
During the boot of your Android device, often lies many services and applications that are nothing but an unnecessary waste of system resources, slowing both your boot time while knocking your performance.
Startup Manager is a fantastic free app that shows you each and every single process that runs at the start-up of your device, and allows you to disabled those which you do not need. Many services install themselves alongside the software to which they are a prerequisite, and then schedule their launch at your boot up.
This is a waste of resources because the service may belong to an app that you seldom use. If you disable a start-up service needed by an app, then all that will happen is a short delay upon launch, much better than an overall performance degradation if you ask me!
Startup Manager Features:
Intelligent Monitoring of Start-up Items
Safe Disabling of Start-up Items
One Click Detailed Reporting
Favorites Functionality for Wanted Start-up Apps
Configuration Saving / Backup Functionality
3. 3C Toolbox
3C Toolbox, previously known as Android Tuner, is a must-have for any Android user seeking more control over their device. 3C Toolbox provides access to many detailed reports ranging from CPU usage to battery power, and allows you to customize all the way!
This app has great features in both its free and paid subscription models, with many advanced features such as a handy task killer and automatic backups being provided at a low cost. 3C provides such a far extent of user customization options that the power user can even tamper with settings that, if incorrectly configured, can damage their device.
For the average user, you had need not worry, thanks to the intuitively designed interface provided by this fantastic toolbox. 3C Toolbox, free or paid, is a great tool to speed up your Android experience.
3C Toolbox Features:
Support for any kernel or ROM (up to Android 2.3)
Stock and Rooted Device Support
SAMA Share Access
Advanced File Explorer with Batch Copy, Zip and Sharing
Boost and Benchmark SD Cards
Complete System Monitoring and Reporting
Memory Manager and cleaner
Widgets
Terminal Emulator with Script Editor
Freeze / Hibernate Apps
What`s your favorite, FREE Apps to Speed up Your Android Phone? Feel free to leave a comment below,