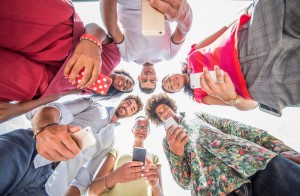 The Apple's iOS10 came with groundbreaking updates and iMessage is one of the apps that came with a new design that made messaging easier, faster and fun. The new messaging app is more than just a texting application. It's no longer the communication tool you're used to, it is more of a standalone app.
With the kind of changes made to the app, it's succinctly clear that Apple is trying to compete with social apps such as Whatsapp and Facebook. Let's look at 3 iOS10 messaging features that have taken the text messaging to a whole new level.
3 New Features of iOS10 Messages That You Didn't Know About
Reading Texts Without Phone
Apart from replying messages on the lock screen without having to necessarily enter the passcode, iOS10 allows you to view your text messages even when you don't have the phone right with you. Messages on your iPhone are extracted and directly exported to iCloud where you'll be able to view them.
With your Mac, there are various apps that can help synchronize messages between your computer and phone. This allows you to send and receive messages on your Mac without touching your phone. This is a feature that easily goes unnoticed. iCloud is very useful if you happen to leave behind your phone and you really want to check who has texted you.
To get you started;
Go to Settings; Messages and finally Send & Receive then check your phone number and email address. Go the Text Message Forwarding and tick to allow your Mac device send/receive text messages from your phone.
Check for the verification code and enter the code on your phone. From there, you're good to start texting via your Mac.
Amazing Bubbles, Animations & Stickers
Apple's iOS10 gives you an opportunity to add a personal touch to your messages by including handwritten notes, animations and special effects to your texts.
When in a conversation, just tap and hold to preview bubble effects. Then add the effect of your choice (Slam, Loud, Gentle or Invisible Ink).  These effects are not only available for iPhone, iPod, and iPod touch, but they are also featured in Apple Watches running iOS10.
iMessage complete makeover was marked by the introduction of Stickers – resembling those found on Facebook. A tap on the Compass icon gives a flurry of stickers which you can add on top of photos, bubbles, and your lovely handwritten note. If you can't get the sticker you want, you can as well find some stickers on the web (by choosing the
Search for more Stickers option).
Hide Text or Images Behind a Message
If you're trying to save your recipient from the curious peeping Tom, then the new iMessage features an option where you can conceal texts/photos messages behind the text. Tap on the blue arrow icon and select "invisible". Upon receiving your message, he or she has to swipe his/her finger over the message for the text/photo to be revealed.
Check out below on some of the other features that have made iMessage roll with punches with the current technological space.
Search of images and videos directly from iMessage is now possible
Website preview for pasted URL links
Listen to Apple Music directly in iMessage
Tapback feature enables faster reply to messages with a heart, thumbs up etc.
Convert written texts directly to Emoji
Apple's transformations has enabled iMessage to match up with internet-based social networking apps. Apple users who have devices running iOS10 can now send messages the same way they can do on Facebook and Whatsapp.