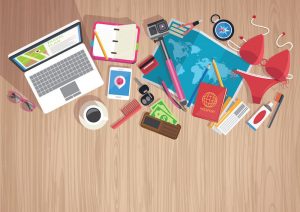 Whether it's for an upcoming trip abroad, language studies at school, or simple curiosity, you'll need a decent if not great translator app for your Android device. The app market is flooded with countless copy-cats and clones, but a few stand out as practical and great. We'll talk briefly about three apps that will fit your needs best, depending on what they are. Some need versatility, some need convenience, and some need accuracy when it comes to actually communicating with speakers of another language.
3 of the Best Translator Apps for Android
1. Google Translate
It may come as no surprise that we recommend this app first, since Google's titan of a name seems to show up on everything these days. But, make no mistake. Google isn't interested in producing anything even resembling mediocrity. You can expect the greatest versatility of the three apps with Google Translate.
The first thing worth mentioning is that almost any translation app will require Internet access for live translation, unless you download individual language packs for offline use. Google Translate is no exception. The app will allow you to pick from 90 different languages with total cross-language compatibility. That means you can translate as easily from Spanish to English as German to Arabic, given you can type, speak, draw, or photograph the source language.
The sheer number of supported languages is what makes us recommend Google Translate as the best all-around app. Recent integration of voice recognition is helpful to translate single words or phrases that one might see on a sign or menu. The photograph function is even more useful, using the camera on your phone to automatically provide a translated image of whatever you're looking at. The extra features are a little limited, having only 40 and 26 languages supported, respectively.
2. Easy Language Translator
This one would be our best pick for a straightforward, simple, and easy to use translator. If you need a few words or phrases translated, and need to see them clearly, then this app is perfect. Languages are selected in a drop-down menu, and then easy to access using the corresponding flag. This facilitates switching between different target languages. The fonts and appearance are also very attractive, with a little room for personalization. If you need big letters, they have them. New colors? They have that, too. All in all, it's a cute and simple app that will give you real-time translations.
3. iTranslate
This app, iTranslate takes the trophy for the most accurate for one needing realistic translations when traveling abroad. This means that instead of just giving rigid, literal translations for what people say to you or what you read on a store front (something that often if not always loses the meaning), this app will give you the real connotation of a phrase like ça roule? meaning "how's it going" or "how's it rolling"? This is much better for anyone who actually wants to get to know the language and how it works, instead of just direct translations of one word after another. Consider this app one that provides a "living" translation of foreign text. Couple that with great speech output in multiple languages and dialects, input suggestions provided as you type, and dynamic voice input for translating on the fly.
With these three translator apps for Android, you'll have your best chance at enjoying using another language. Depending on your needs, these three apps should give you a great head start at breaking the language barrier.
3 of the Best Translator Apps for Android, there you have it!