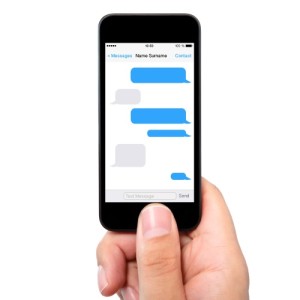 You may have been using Apple's mobile operating system for a while now, but you may be surprised at some of the tips and tricks you may be missing out on.
In this article, we take a look at 3 text message tips for iOS that could help to improve your texting or just make it easier to deal with everything related to SMS messages.
3 Text Message Tips for iOS
1. Know When Your Messages are Sent or Received
When you're waiting for an important reply, it's easy to get impatient, but by taking a look at when you sent your message you can usually find that you haven't been waiting as long as you thought you may have been.
By default, time stamps for iOS will not be shown to you straight away, and you will need to perform a certain task to bring up the time stamps for each message. If you hold your finger down on the message you'd like to receive time stamp info from, you can swipe left, and this will reveal a section dedicated to time stamps for your messages on the right side of the screen.
The time stamps will automatically be hidden the next time you view your messages app, so you'll need to use this shortcut every time you'd like to see when a message is sent or received.
2. Turn on Character Count to Keep Track of SMS Usage
Smartphones now ignore the 160 character count that SMS messages abide by, allowing you to send large texts in one go. However, despite this, if you go over 160 characters in a message you will still send multiple SMS messages even if your phone shows it as being just one.
For every 160 characters you will be charged the rate of one SMS message, so if you're trying to be concsious about how many messages you are sending, you might want to turn on the character count to keep track of things.
In the settings menu, head to messages. Once in messages, you'll be able to switch character count from off to on. After doing so, a character counter will show above the send button in the message app.
3. How to Use the Microphone Tool Effectively
If you're in a situation where you can't type out a reply, or simply want to find the most convenient way to send messages quickly, you'll want to learn how to use the microphone tool effectively.
By tapping the microphone button once the keyboard is up, you will be given the option to speak out your message. Doing so will print out the words you say into the text box. Here are two tips to follow to ensure the messages comes out as intended.
Speak clearly and slowly – Doing this will make sure the microphone can hear you properly, and can print out each word accurately. If you speak too fast it may try to combine the words you are saying into single words.
Say the punctuation – If you want to use punctuation in your messages, just say out the word. For example, to write "Today, I shall visit the park." You must clearly say Today comma I shall visit the park period.
Hopefully these 3 text message tips for iOS will help you to make the most out of your iOS message app.