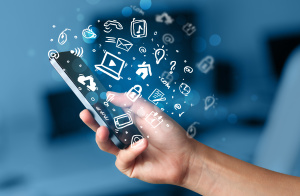 Do you need to transfer large files to someone with your smartphone, but don't know how to? You're at the right place. Large files transfers on smartphones can sometimes be a difficult task, but this issue can be tackled in many ways. This article covers the simplest, most effective, and secure methods to get your file transfer jobs done in no time.
3 Ways to Send Large Files on Your Smartphone
1. Use a Cloud Storage Service
The most common way for transferring large files is to upload them to an online cloud storage host where the recipient can download them. With cloud computing on the rise, there are so many cloud services available for you to use. Here is a quick list of the best services out there for you to choose from.
Google Drive
Google Drive offers 15 GB of free storage by default and allows you to attach and share large files easily. Once you have a Gmail (Google) account, you automatically have your 15 GB of storage with Drive. Upgrading to a premium plan offers you 100 GB for $1.99 and 1 TB for $9.99 a month. Google Drive is available on both Android and iOS.
Dropbox
Dropbox is another great cloud storage service that offers 2 GB of free storage upon registration. It gives you extra storage when you link your account to a smartphone or refer other people and also comes with a variety of sharing and editing options. Dropbox is available on Android, iOS, Kindle and Blackberry OS.
WeTransfer
WeTransfer is a free service which allows users to send files up to 2 GB even without registering with their details.
OneDrive
OneDrive, formerly known as SkyDrive, allows you 15 GB of cloud storage for free and gives you 500 MB extra for every friend you refer to the service. Most importantly, this service allows you to share files for free. You can easily and quickly share files by pressing the Share button within the app. OneDrive is available on iOS, Android, and Windows Phone.
SugarSync
Sugar is a great cloud storage service for file sharing but unfortunately doesn't have a free account option. You can still get a 90-day limited plan with which you can send up to 5 GB of files, sync with unlimited devices and backup all your files – all for free. You can send files from iOS, Android, Kindle, and Blackberry OS, making it a great option for sending really big files.
2. Compress Your Files Before Sending
Got a file too big that you can't send it as an attachment? You can make it smaller by compressing it. Compressing your files will not only reduce the file size but also make it transfer faster than it normally would, regardless which method you're using.
Apps such as iZip for iOS and various file managers in Android offer the ability to compress your files.
3. Wi-Fi Transfer Apps
You can transfer files between mobile devices using Wi-Fi transfer. There is a slew of apps on the app stores of both iOS and Android which offer this option. By default, you can use AirDrop for iOS devices and Wi-Fi Direct for Android devices.
3 Ways to Send Large Files on Your Smartphone, what's your best advice in this matter?