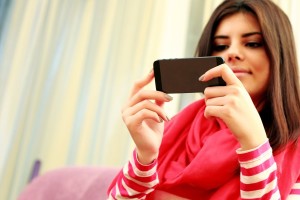 Now that pretty much everyone has a high speed internet connection, many have turned to watching movies on their smartphones and tablets in lieu of on DVD or TV.
Although a few years ago you could just do a search for any movie you wanted to watch, now with different regulations you have to be a little more hands-on. We'll talk about 3 ways you can watch, either streamed or downloaded, movies on your smartphone for free.
Different rules apply to different countries and files, make sure you check your own laws to stay on the right side of it. Don't download copyrighted content for example.
3 Ways to Watch Movies on Your Smartphone for Free
1. Through a torrent client –  make sure it is legal though
Recently, the same most popular torrent clients like Bittorrent and uTorrent  have become available for mobile platforms like Android and iOS, not just for PC. Just download the app and install it on your smartphone, and then enter your query into the search function. The app is very straightforward, but it will require you to then use your web browser to download individual torrent files that will be added into the app. That goes for music, apps, movies, and anything else. Once you have the torrent file, though, the real file will be downloaded with pretty impressive speed to your device, thus providing it for offline viewing.
2. Through the free version of streaming services
It's worth mentioning that Hulu offers very competitive and fair pricing for premium plans ($8 or $11 per month, depending on ad content) that include huge libraries of movies, but the free version will offer a great selection of movies for your smartphone if you're a little patient:
Hulu's free library is comprehensive for both movies and TV, and it comes out the winner in terms of availability. Most popular shows offered on Hulu will be available 24 hours after airing on live TV, and their movies are typically more current than other streaming services. The downside is their abundance of ads, thus the cost of free movies.
3. Through third-party apps
Simply typing "free movies" into your app store's search bar will yield tons of apps for both Android and iOS, but we'll mention a couple here that work best for each platform:
We'll mention this app first because of its superior selection and availability for both mobile platforms. The website featured in the above link will provide detailed instructions on how to install the app on either an Android or Apple device. Granted, it takes a few extra "back door" steps, but it's perfectly legitimate.
What makes this app great? Well, it offers a nearly inexhaustible selection of movies and TV shows, practically the same as a torrent client. But, it offers the option to either stream or download to your device, depending on your data usage or device storage needs. Simply search for what you want, and pick "stream" or "download". Another great feature of this app is the availability of subtitles for whatever you watch. This can be handy in low-volume situations when you want to watch a movie while running errands, etc. and not disturb those around you.
This one is unfortunately only available for Android, but all you need to do is download the .apk file and you will have access to a huge catalog of free movies, available in both 360p and 720p, as well as streaming or download.
So there you have it. There are quite a few ways to watch movies for free on your smartphone, depending on what you feel most comfortable with. Hulu may be a more reputable app, but its selection a little smaller. Third party and torrent apps will give you anything you could want. These three methods are great ways to enjoy movies for free on your smartphone.