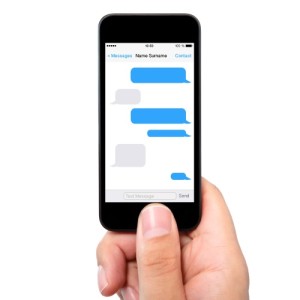 No matter whether you own an iOS or Android, there is always a wide range of apps at your disposal to carry out your daily tasks more effectively. Plain-old text messaging has received a lot of attention over the past years, with texting these days costing you next to nothing.
Data charges are used throughout most text messaging apps for iOS and Android, and most applications also provide cross-compatibility. There is never a reason not to stay in touch with the technology available to you on your iPhone. Here we take a look at three of the most feature-rich text messaging apps for iOS, all of which work on Android too!
4 Must Have Text Messaging Apps for iOS
1. WhatsApp
No text messaging review would be complete without the mention of WhatsApp. This well-known app is free to use for a year, with a $0.99 charge for each year following. WhatsApp will work on any device and is one of the world's most popular instant messengers.
Text messaging does not get much more comprehensive than this. WhatsApp facilitates group conversations, picture, video, voice-notes and of-course text messages. There is no in-app advertising and the interface is overall clean and intuitive. Thanks to the widespread support you will find that the majority of your friends and family can use, or already are using WhatsApp.
This text messenger is a great way to cut costs, using data charges only. Data usage is very low making WhatsApp dirt cheap to use.
2. Telegram
Telegram is a text messaging app for iOS packed full of encryption and other security features. All your messages and are encrypted, you can even set a message to self-destruct! This makes is readable for a short period of term, one that you determine. Messaging is extremely fast and Telegram is straight forward to use.
The encryption used to protect your security is of world-class standards, you are fully protected from man in the middle and other attacks. Telegram is supported across all platforms, with there even being a web version! File limits are huge, with the ceiling being set at 1.5GB.
There is even a desktop client available to make messaging comfortable and quick, allowing you interact with your phone's contacts whilst staying well-protected behind Telegram's security.
3. Blackberry Messenger
Blackberry Messenger has ported over to iOS and brings with it the reliable, sturdy support of the Blackberry network. Contacts can be added via PIN, text or email. You also have added option of scanning the QR code of a nearby user to add them to your contacts.
Live chat and group chat are supported, as is all of the features in the conventional Blackberry Messenger. Using Blackberry Messenger on an iOS touch-screen device is a pleasure, the interface works much better than it did with buttons.
If you are looking for a way to converse with Blackberry users, then this is your best option of text message app. The app is very quick, messaging extremely responsive and it carries an overall polish, although perfectly minimalistic.
4. WeChat
WeChat is a feature rich multi-platform, text and instant messaging app for iOS that is relied upon by over half a billion users. This is a text messaging app that is free and will always remain free. Voice and video chat are supplied and video within messages runs very quickly, with no noticeable delay.
WeChat also gives access to a few innovative features such as "Fried Radar", "People Nearby" and "Shake to Meet". You are also able to use real time location sharing, a service used by many of the games that are also provided by the all-inclusive multi-media text messaging application.
Extensive customization options are given by WeChat, you are able to adjust your wallpaper, notifications and more.
Localized in twenty different languages and used across the glove, WeChat is both a great text messenger for iOS, and a fantastic way to help pass the time.