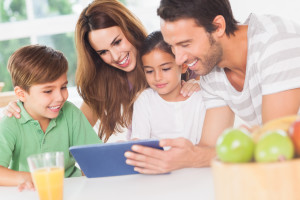 Having your iPad read out text for you may seem lazy but there are numerous occasions where it's actually extremely useful. Having an email read out for you while you're washing the dishes is one good example. Another would be having an article read out for you while you're fixing your car.
From these examples, you can get a glimpse of how this feature can be utilized.
The question now is which apps do this best? Now, there is a couple but we'll only give you the best ones because that's what you deserve!  Kindly note that for newer models of the iPad have a feature called "Speak Selection" which lets your iPad speak the highlighted text.
4 of the Best Text-to-Speech Apps for iPad
1. Voice Dream Reader
Priced at $9.99, Voice Dream Reader blows the competition apart with 36 (yes 36) built-in voices with an additional 146 available through in-app purchases. The app is hailed as one of the best text-to-speech apps on mobile and it's easy to see why.
There's a pronunciation dictionary which you can customize to make sure the app pronounces your words properly. What's more is that you can just queue up a list of articles and it will read for you while you drive or do other activities. It's even optimized for Braille!
2. Aloud!
What makes Aloud! stand apart is its simplicity. It's easy to navigate through its interface making it a breeze to use. It supports an assortment of documents such as PDF, ePub, or HTML files so you won't have any problems in terms of compatibility.
Other languages besides English are also available so if your native language is different, you can easily change it. The best thing about this app, however, is that you don't have to pay a single cent to use it!
3. NaturalReader
NaturalReader is another great text-to-speech app for your iPad! It has 30 in-app voice that can be used in 5 different languages. It also has the ability to read from specific types of documents such as Word docs, web pages, PDFs, eBooks, and even text from you input from your keyboard.
It's free but there's a catch –you can only listen to 100 minutes straight without being interrupted. Still, if you're looking for a premium text-to-speech app, NaturalReader is definitely one of the best ones you can get.
4. Listen up!
Whether you're washing the dishes or driving to work, reading (or listening depending on how you look at it) will be a whole lot easier with these text-to-speech apps! Picking which voice you want to speak and what language to use is just one of the many ways you can customize your app.
This makes the experience more personal so it can work just the way you want it to. We're lucky to live in an age where this is possible and it would be a shame if we didn't make the most out of it. So open up your iPad, get those readings, and start listening in on the knowledge!
4 of the Best Text-to-Speech Apps for iPad