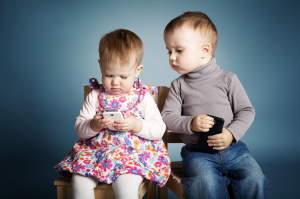 Smartphones are used by not only adults and teenagers, but also by many younger children. It's, however, important to ensure as a parent your child uses his or her phone responsibly.
There are monitoring apps, contract of responsible behavior parents and kids can sign, and much more. Read through these tips of smart rules for your kids with smartphones.
4 Smart Rules For Kids Using A Smartphone
1. Use Parental Monitoring Apps
There are a number of apps out there to give you heads up on your child's phone usage and current location. Here are a few:
FlexiSpy allows parents to read a child's messages, both on social media and traditional text. The app also allows parents to control the phone from any remote location.
mSpy lets parents monitor and filter websites which are not safe for kids. They can set it to automatically block explicit websites and other adult content online.
WebWatcher allows parents monitor incoming and outgoing calls, including the duration and details of the caller.
Kids Zone Parent Controls is a free app that allows parents to set time limits on how long their kids can spend on their smartphones. The app also allows parents to lock the devices, block calls or texts, as well as internet access.
2. Sign a Contract with Your Child
Every parent need to know about sexting, social media apps, and smartphone games. Parents can use their knowledge of these things to outlines rules concerning the general phone usage of their kids.
The contract can state what the phone must be used for and what not use the phone for, password disclosure, and communication with strangers. Signing a contract eases parents from getting overwhelmed by new and constantly changing technology by giving attention to the areas of consideration.
3. Consider a Dumbphone
If you haven't purchased a smartphone for your kid yet, you should consider a feature phone instead. You can purchase a device with basic calling and text features if you don't want your kids exposed entirely to the internet. Kids often lose or break their phones. Buying a "dumbphone" for your kid will save you some cash and also keep your child safer than a smartphone will. You can also introduce the following technologies to your kids:
Flip 2: This smartwatch functions as a phone and a GPS tracker that syncs to a parent's smartphone. The device can be programmed authorize incoming and outgoing calls for up to five number.
Kurio Phone: This is a kid-safe internet phone that blocks unsafe websites and allows parents to monitor phone calls, texts, and location.
4. Lead By Example
As a parent, you know your kids are always watching and learning from you. You can teach your kids healthy smartphone habits by staying off the phone during conversations or dinner times or narrating the effects of staying on devices for a long period of time.
It's important to think about what helps and what doesn't and set new policies to make life better.
4 Smart Rules For Kids Using A Smartphone, what's your take on it?