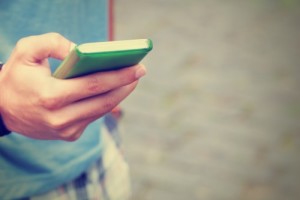 Android is a very versatile operating system, and there are always plenty of tips, tricks and hacks that go unnoticed by the majority of users.
In this article, we'll be focusing on the text message app, and the various text message tips for Android you can use every day.
 4 Text Message Tips for Android
1. Forward Your Messages
Whilst forwarding an email has always been a pretty straight forward thing to do, finding the feature on Android can be a little tricky. In fact, many people are unaware that forwarding an SMS message is even possible.
To forward your messages on Android, you must simply hold your finger down on the text message you would like to send. Doing this will give you a menu of options, one of which will be to forward your SMS. Pressing the forward option will bring the message you just forwarded into a new text screen, and from here you can then choose the recipient to send it to.
2. Delete Old Messages Automatically
If you have an old Android phone and don't want to lag up your message app or take up your internal memory with hundreds of text and picture messages, you may want to set it up so that your messages are deleted automatically.
To automatically delete messages on Android, all you need to do is head into the messaging app and press the action bar. (it appears as three dots vertically stacked upon each other.) Once the action bar has been opened, tap settings.
Doing so will open up a settings menu, and from here you can scroll down until you find an option that reads storage. Within the storage section, you can tick the delete old messages option, and from there you can then tap text message limit to set the amount of messages you can have in a thread before they start to be deleted.
There is also an option in the storage section that can be used to limit the amount of multimedia messages that can be stored.
3. Lock a Message So it Is Never Deleted
Whilst cleaning out old messages, it is easy to accidentally delete a text that is important to your or contains important information. Fortunately, there is an option to lock messages so that they cannot be deleted, and even the automatic text cleanup will not be able to delete locked messages.
To lock a message on Android, all you need to do is hold down the message you want to lock, and then tap lock on the menu that pops up afterwards.
4. Get a Better Keyboard
Most of the default Android keyboards are now very decent – they come with a wide range of features and are pretty good at predicting text. However, there are keyboards in the Google Play store that could potentially be better for you.
For example, SwiftKey is a fast typing keyboard that learns more about you the longer you use it. Within a few weeks, SwiftKey can help you predict entire sentences. Swype on the other hand is a great keyboard that uses an alternative swiping method to type out messages. Once practised, swiping actually turns out to be a lot faster than typing.
Hopefully these four text message tips for Android will help you to make the most out of your device.