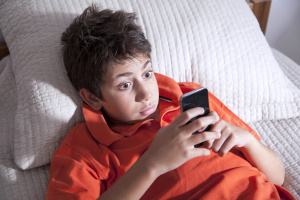 After buying your child a smartphone, it is now easy to communicate and stay in touch. However, you need to be worried about the kid's internet use. The kid might be a subject of cyber bullying, get lured to pornography, and even drugs on social media.
However, you can now use the latest technology to monitor and control social media activities on the kid's smartphone.
The first step to monitoring social media on a smartphone is selecting an appropriate app. Many apps such as mSpy  have been developed to give you complete control of the kids' smartphone. You can now take control of all features, turn off the phone, and keep the child safe. Here is an account of how to monitor social media on the smartphone.
4 Ways on How to Monitor Social Media on Smartphone
1. Set keywords monitor for notification when texting harmful content
Because social media is an open platform, a child will make friends from all over the world without limitations. Although this is great, there is also a risk of connecting with the wrong people.
Using the appropriate app, you can set up keywords related to pornography, crime, drugs, and other bad issues in the society to get a notification when messages with them are sent to the kid. The notification will give you insights about what type of friends your kid has on social media.
2. Get full control of social media accounts
With appropriate technology, you get access to the kid's social media account login and full control. Right from your computer screen, you can see all the discussions, people who communicate regularly and establish their intentions.
If you note any friend who is luring the kid to pornography, drugs, or other bad activities, you can block their access to the phone completely.
3. Access social media activity history
With a monitoring software, you get access to all the smartphone's social media activities history. Often, a one-time glance at the texts exchanged might fail to provide a full picture of what friends and your kid are up to.
However, accessing the social media history allows you to follow kids' friends, profiles, and lines of communication on social media to block the bad ones. Even if the kid deleted messages to hide something, you would be able to get them and establish the intent of communication.
4. Control of social media related apps
Because of social media popularity, many ads promising false rewards keep popping up and the kid might be tempted to click them. For example, adverts shouting you have won or click here to enjoy free shopping might prompt children to click and install the app they are not even sure about.
However, monitoring apps allow you to take control of all social media and other apps that have been installed or require installation. If the kid clicks on these apps whether knowingly or unknowingly, they will not be installed until you allow them. This way, you can review the apps and deny them access if they are bad.
Conclusion                                                                                       
Because of the many dangers that loom on social media, it is risky to leave the kid to navigate there without monitoring. Use the appropriate apps to follow your kid's friends, messages, and history to filter the bad ones and block them.
Remember that even with social media monitoring, it is prudent to talk to the kid and teach him/her necessary safety skills when operating online.   Be open and honest with your child, give him freedom as long as your safety rules are being followed.
That was 4 ways on how to monitor social media on smartphone, feel free to share your thoughts below,