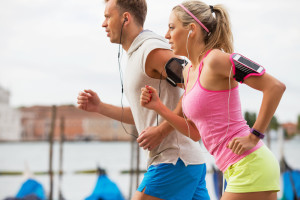 Good health is a key of happiness and wellbeing. Regardless of your physical form, motivations and environmental factors, getting in shape and staying healthy is a critical to experiencing life to its full.
Our smartphones are far more than just telephonic communication devices, with apps opening up a whole new world of possibilities.
In terms of health and getting in shape, we no longer have any excuses, as any resource that we may need to get started with any particular style of exercise is readily available and at our fingertips. Here we have compiled a list of apps for Android and iOS that give users the resources that they need to get in shape.
6 Apps to Use to Get in Shape
1. Yoga
Yoga is an ancient art and science that anyone at any age, in any environment and in any physical condition can use to promote good health and an optimal state of mental and physical wellbeing. The practice of Yoga helps one adjust to the natural rhythm and flow of nature and, in turn, one's own body. With as little as ten minutes of practice a day, one will begin to clearly feel the benefits of Yoga.
2. DailyYoga
DailyYoga is designed with the beginner in mind, giving you access to daily routines and poses, all of which take 30 minutes or less per day. Everything that you could need is covered, from flexibility to weight loss. In total 50 classes are offered. Yoga to assist aches and pains is also provided, one being guided through each exercise simply and in an easy-to-understand manner. DailyYoga is an excellent free app that will kick start your day, and ease you into the time-old practice of the ancient art of Yoga. Download DailyYoga for Android or iOS.
3. PocketYoga
PocketYoga is an app costing $2.99 that integrates heart rate tracking and calorie tracking with its comprehensive set of Yoga poses, suited to beginners and advanced practitioners alike. Twenty seven different sessions are provided, as is a pose dictionary. PocketYoga have also developed an app named "PocketYoga Practice Builder" for iOS, and charged at $6.99. It allows you to construct your own Yoga practices through an innovative and intuitive interface. It is a must have for anyone that wishes to construct their own exercises to share with friends and family.
4. Tai Chi
Tai Chi is a great addition to anyone's fitness regime, acting as both a means to burn calories and balance the flow of your body, dramatically reducing stress levels. In the majority of studies there has been a clear connection between weight gain and increasing stress levels. The practice of Tai Chi allows you to combat daily stress and maintain a workout regime that you both enjoy and benefit from in terms of getting in shape.
5. Tai Chi Chuan
Tai Chi Chuan is a free app for Android that gives you access to Tai Chi exercises suited to both beginners and advanced students alike. There are countless video walkthroughs, guiding you through the positions and transitions used in numerous Tai Chi workouts. Due to the video content, it is recommended that you have your device connected to Wi-Fi to save on data charges. This aside, Tai Chi Chuan is an excellent program that should be of great benefit to anyone wishing to begin the practice of Tai Chi.
6. Tai Chi Step by Step – Full body exercise for strength, fitness, stamina, resistance and stress relief
This app comes at a cost of $3.99 and is only available for iOS. It is however an excellent Tai Chi reference that can be used no matter where you are to ease through the movements of your chosen Tai Chi routine. You are visually guided through exercises suited to practice both alone, and with a partner. The prompts and animations are flowing, easy to understand and even easier to put in practice. Tai Chi Step by Step is a must have for any iPhone owner that wishes to begin the ancient art of Tai Chi, easily!