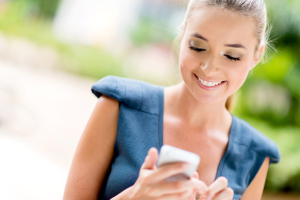 Smartphones have metamorphosed the way we communicate and as the world switches to video chatting to 'bring' distant friends closer, app developers have come up with systems that make the process faster. There is a slew of tools out there that enables you to video chat with your friends with a touch of a button.
Video chatting didn't start today. Skype, introduced in 2003, was the first application that allowed people across the world to have a face-to-face chat without being in the same room. From then, we've witnessed a series of apps come and go. Here, we're going to winkle out top 5 android video chatting apps based on user experience, reliability, and intuitiveness of the app.
5 Best Video Chat Apps for Android
1. Facebook Messenger
Messenger comes top because it not only pulls up the contacts on your Facebook account but it also allows instant video chats. The quality of the video is also great so long as the person on the other end of the line has a phone with a decent front camera.
The app is easy to use as all you need to do is to click the video call button located directly to the right of the name of the person you're about to call. The greatest thing is that the video window doesn't take up the entire screen, it pops up in a minimized version on the top right corner.
You can long press to move the video window wherever you want on the screen. You can as well double tap on it if you want a full-screen video chat.
2. Skype
With over 299 million users, Skype has been able to stand the test of time making it a reliable video chatting app. Skype for android allows instant messaging, voice chatting and video chatting. This is probably one of the reasons why it still remains a popular video app.
After signing up, users can start adding their friends' contacts and immediately begin to video chat. Skype is simple and clear, it has no app glamor or notorious app ads. However, to call/text a mobile or a landline you must buy Skype credit, so it's not entirely free.
3. ooVoo
ooVoo takes some features from Facebook Messenger and some from Skype to make it an outstanding android video app. This app extracts your Facebook contact list after it has been linked it to your profile saving you the pain of adding contacts one at a time.
ooVoo allows one on one chats or group chats of up to twelve friends at once. While on a video call, you can seamlessly send GIFs, texts, audios, videos or even photos provided you've a decent internet connection. ooVoo to ooVoo calls are free but you may have to subscribe for the premium package to enjoy calling cellphone numbers and landlines.
4. Tango
Tango is a straightforward video app for android devices that allows you to send masks, filters, stickers and texts without spending a single cent. Apart from video chatting, the app allows you to play games with the person you're on a video call with and send music files (via Spotify).
Tango supports group chats with of up to 50 people. The signup process is easy and Tango gives you the chance to customize your profile.
5. Viber
With Viber, you can make member-to-member video calls and send messages and photos for free. Synchronize the app with your contact list and chat up with up to 40 people in a group. Enable push up notifications to receive messages when your app is off. You can spruce up your chats with animated stickers, Emojis, and GIFs.
Well, if haven't yet installed one of these apps on your android device, try one of them and enjoy the feeling that comes with video chatting. Other apps like IMO, Google Hangouts and Camfrog are also great. But you'd want a video app that most of the people on your contact probably have and that's why Facebook Messenger stands out.