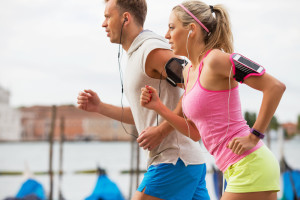 Success in your professional and personal life is dependent on many things such as professional skills, personality, family, workplace colleague, and the community. An even more important component for your success is health and fitness. Today, many issues such as overweight, obesity, and mental related problems can be addressed by eating well and doing a lot of exercise. However, many find this difficult because of busy schedules that characterize their chores.
Mobile apps are useful health assistants that will walk with you through the long journey of cutting weight, building muscles, and preparing the right recipes among other things. Here are top five most essential apps to help you stay healthy.
5 Essential Apps for Staying in Shape
1. FitStar
FitStar is a unique app that helps the user to create custom workouts depending on personal fitness level. As you commence with workouts, just give the apps personal feedback about the ease or toughness of different exercises. The app applies this info to set out a routine that is challenging enough so that you can cut on weight, build the muscles you want, and stay healthy. The app has an in-app coach who makes it fun and very easy to use at all levels of your workout.
2. Sworkit
Because of busy schedules, many people find it very difficult to follow the right exercises let alone practice the right moves. This app helps the user get the right type of exercise depending on your target and moves a step further to show how to go about the workout in guided videos. The app has all types of workouts to fit different challenge levels so that you can take 30 minutes before going to work or late night to complete scheduled fitness training. This app is in many ways like a real gym assistant because you simply have to follow the moves.
Stronglifts 5×5
This is one of the best apps to help you stay in shape. It is designed on the concept of 5×5 model that involves doing different exercises of 5 sets and repeating 5 times. The program recommends use of two complete body workouts with 3 different exercises. Then, you alternate the exercises over a period of 3 weeks in a gym to build your all the body muscles. These workouts include; Squat, Bench Press, and Barbell Row in the First Workout and Squat, Overhead Press, and Deadlift in the Second Workout.
Couch To 5k
Couch to 5K is a special app constructed to help you get up and start running. The app helps to sync running with playlists, track distances using GPS and share the thrill with fans. This will easily motivate you to get up off the couch and keep running for longer. The app allows you to select the coach of choice for direct interaction and motivation. Within a short time, you will be in a large community of runners to share the thrill and yearning for the following day to hit the track.
Motion Traxx
If you have been finding workout boring and difficult, it is time to try Motion Traxx that provides audio support and motivation during exercises. The app has professional guidelines from expert coaches on every fitness exercise using rowing machines, stairclimber, rowing machines, and indoor cycling. Besides, it has lovely workout music to match different exercises so that you can work more and stay healthy at all times.