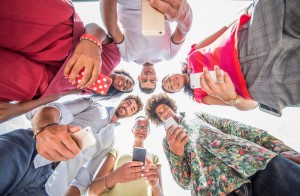 Group messages are fun. A shortcoming, causing the slow death of traditional SMS is the lack of support for group messaging. Group messaging apps make it possible and easy to have conversations with many people at the same time or send the same message out to several people instantly.
Here are our five best group messaging apps you should be trying right now.
5 Must Know Group Messaging Apps
1. WhatsApp
WhatsApp is currently the world's most popular instant messaging app. This app supports multimedia messaging, and allows you to send audio, video, voice notes, and documents with your friends alongside texts and photos.
You can create unlimited groups on WhatsApp with a maximum of 256 members. WhatsApp offers end-to-end encryption and is available on all the major smartphone OS platforms as well as on the Web, Windows, and Mac OS X. You don't need to create an account for WhatsApp as it works with your existing phone number.
2. iMessage
iMessage is an exclusive messaging service for all Apple users on iOS 5 and newer. You can send unlimited messages via cellular data or Wi-Fi from any iOS device to another. iMessage helps to track your messages with delivery and read receipts.
Aside texts, you can send multimedia such as photos, videos, location, and contacts. Stay abreast with your friends and loved ones with the group message feature. You can find iMessage on any iOS device. It is also available on Mac OS X.
3. BlackBerry Messenger
BlackBerry Messenger was originally made for BlackBerry devices but is currently available on the iOS and Android platform. It supports multimedia messaging at no cost and provides you with unlimited character length.
BlackBerry Messenger allows for group messaging and broadcast messages. BBM uses a PIN system which you share with your BBM contacts, hence eliminating the need to share your personal contact details.
4. Facebook Messenger
Messenger is a dedicated messaging app built on Facebook's existing chat framework with more mobile messaging features. This means you all you need to use Facebook Messenger is your Facebook account. Signing in to Facebook messenger allows you to chat with other Facebook users (even if they're offline), as well as send voice notes and place both Audio and Video calls to other Messenger users.
Its Android version has a Chat Heads feature provides a pop-up for you to chat even when you're in other apps. Facebook Messenger has a rich group messaging feature which offers a lot of customization for the group chat interface. Messenger is available for free on Android, iOS, and the Web.
5. Viber
Viber is WhatsApp's biggest rival. It's easy to set up and has tons of features – including video calls and a public chat page. Viber works with your phone number and sync with your contacts to identify other Viber users.
The app allows you send texts, doodles, stickers, GIFs, photos, voice messages, videos and so much more to other Viber users for free. You can place free calls to Viber contacts or non-Viber contacts for a fee. Viber supports group messaging just like the other mentioned above.
Thank you for reading, 5 Must Know Group Messaging Apps.
Here are our favorite group messaging apps, what are yours?