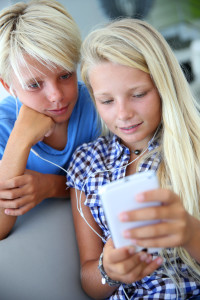 Since the inception of the Internet, children and adults alike have benefited from the different opportunities it provides. The Internet can be used as an outlet to learn, explore, create, and connect. Along with the joys of the Internet, comes the negative. The Internet can be a dangerous place for your child as there are many viruses, inappropriate pictures and websites, and also people who want to harm them.
Are your children using the Internet? Many parents worry that their children may get into trouble online. With the increasing smart phone use today the internet is more accessible than ever among children.
It is important to make sure you explain to them the dangers that do exist. Since it is nearly impossible for you to be looking over their shoulder all of the time and Internet security only goes so far, you need to know how to identify when your child may be in danger.
5 Signs That Your Child Might Be In Danger Online
1. Secrecy
Secrecy is one way to tell that your child may be in danger. You may notice that your child has passwords protecting you from accessing their computer or phone.  You may also notice that they switch webpages or shut down the internet when they are around you.
This may cause you to worry and your worrying to very justified. When kids act secretive, they are more than likely trying to hide something from you.
 2.    Frequent Use
Unfortunately, the Internet is a breeding ground for child predators and your child may become victim to one without even knowing. Another warning sign is that your child is getting online every day at the same time. This can mean they are possibly meeting someone online to talk to.
Predators will pose online as children to gain the trust of your child. They will even discuss things children enjoy doing, such as playing video games, to make themselves more believable.
 3.    Depression
If your child is depressed or acts depressed, you will want to look into this more. Bullying is a huge problem in today's day and age and your child may become victim to it. Other children from school may be harassing your child online.
 4.    Social Media
It is not uncommon to hear that younger children have Facebook and Myspace pages. These social media sites attract young users because they can interact with their friends and even play games.
If your child has friends who are using social media, this is another warning sign. Your child may already be using social media or maybe they aren't yet, but it is important to keep your eye out because predators, viruses, and harmful images can become part of their daily activity.
 5.    Internet History Deleted
This one goes hand in hand with secrecy but it is something you, as a parent, need to be on the lookout for. If your child is not doing anything questionable online, there should be no reason why the Internet history cannot remain on the computer or their phone…
If you notice that the Internet history is gone, this should raise some red flags.
Do You Need Help Keeping an Extra Eye on Your Child?
Check Out This Cell Phone Monitoring Review Page
The Internet is a dangerous place for children and it is becoming more dangerous for them to be online. The above 5 signs are ones that you should look for and keep an eye on. If you suspect that your child may be in danger, you can begin by talking to them.
Warn your children of the dangers they face online. You can also place parental controls on their phone and computer to block out dangerous and inappropriate websites. Lastly, monitor what your child does online and limit their time on the internet to help keep them safe.