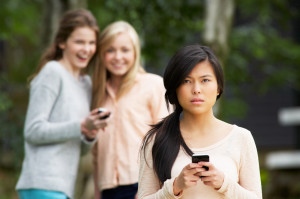 Bullying can come in many different forms and it is not limited to just in school, in this article we will talk about text message bullying. Kids and teenagers can be bullied through their cell phones as well.
Cyberbullying is bullying that takes place through any type of electronic means. This includes text messages and the internet. As a parent, it is your duty to help protect your children and this means you need to have an extra set of eyes to notice when something is not right. If your teenager is being bullied via text messages, he or she may begin to show some warning signs.
5 Signs to Look For: Text Message Bullying
1. Avoiding Conversations
One way to tell if your teenager is being cyberbullied is if they close their phone when you are around or they just skip checking it. This is a sign as they do not want you to see what is actually going on or they do not want to show emotion that might lead you to believe something is going on. They may feel more comfortable if you do not know they are having problems.
2. Sickness
A teenager who is bullied often may experience anxiety or they may be nervous to perform any type of social activities. When this occurs, it can take the form of a headache or even stomach ache. If you notice that your teenager is getting sick more than normal then this can be an indication that they are being cyberbullied.
3. Avoiding Cell Phones and Computers
Teenagers who are bullied through their text messages will normally avoid their cell phones altogether. If your teenager used to use their cell phone a lot and now suddenly doesn't, this is a clear indication that something is wrong. You may also notice that they are distraught, nervous, or upset after they do use their cell phone.
Since text messages can be received all day and night long, your teenager may start keeping their phone off to avoid seeing any of the text messages from their bullies.
4. Bad Grades
Text message bullying can cause your teenager to lose focus and they may begin receiving bad grades in school. If they are being bullied, this may be consuming their thoughts and taking over. If you notice a sudden drop in grades, you should try to figure out what is going on with your teen.
5. Social Activity
Another indication of text message bullying is a loss of friends or a loss of interest in social activities. Your teen will being to simply withdraw from the world around them. They may begin to prefer staying at home instead of going out or they may start spending more time in their bedroom and closing everything and everyone else out.
Cyberbullying is a very big issue and a serious one at that. It is important that you recognize when something is wrong with your son or daughter and take immediate action. Text messages are an easy way for bullies to target other teens and it can cause a lot of harm to the bullied individual, help us stop text message bullying.