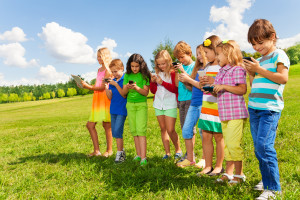 Teaching your kids how to use the Internet safely and responsibly is a great way of keeping them safe from the "evil web" asides using various parental control software. The fact is that we read horror stories in the news almost daily about kids being harmed in different ways through internet use.
In this article, I will guide you in choosing what to bring up when teaching kids Internet safety.
5 Things You Should Cover When Teaching Kids Internet Safety
1. Privacy/Security
One of the first things which come to the mind when we talk about the Internet is privacy and security. Privacy is the ability of an individual to seclude themselves or information about themselves and hence keeping vital information out of reach of unauthorized persons. Here are some important things to look at under privacy.
Sharing of information: It is imperative for kids to understand and learn not share their personal information with strangers they see online, especially on social networks. Such personal information includes their full name, home address, email, phone number, date of birth, security questions, financial information, school name, family information or other private information. This does not only apply to strangers but friends too. Certain information must not be let out over the Internet – Who knows if a friends account has been hacked and is being used to get information from your kid?
Public Posts: Your kids need to wary of the information they put out as posts. They must post what the would feel comfortable with the public seeing. This may be location information, education information and some other usually requested on profiles. Feel free to talk about ask.fm, a social network where random questions asked for users to answer. Teach them how to set their profile and posts private or to friends only.
Passwords: Teach your kids how to set choose passwords that are easier to remember and harder for attackers to guess. Instil in them the habit of changing their passwords every 3- 6 months. When choosing security questions, they must not choose questions that are easy to guess. Introduce them to two-step verification, a security measure which uses their phone to verify them when logging in to a service.
Strangers: Explain to your kids why they shouldn't accept friend requests from people they don't know or get into conversations with them. Tell them to report to their parents or teachers when they are being stalked by someone on the internet. Kids must not meet with someone they met online.
Nudes: Teach your kids never to keep nude photos of themselves or attempt sending them to others, especially over the Internet. They may be hacked or their photos can leak and go viral. Snapchat is a popular example of a platform where nudes of many kids leaked and went viral.
2. CyberBullying
CyberBullying is when a kid is harassed, embarrassed, tortured, or targeting by another colleague on the internet. When an adult is involved, it becomes cyberstalking.  Many kids have been victims of cyberbullying and some even took to committing suicide. Consider the points below when teaching your kids about CyberBullying.
Don't use the Internet to propagate false information, damage someone's reputation or say hurtful works against them.
Don't keep nude pictures of yourself or spread nude pictures of others.
Talk to your parents or the appropriate authorities if you are being bullied on the Internet.
Make your security on the Internet a priority.
3. Malware
Malware is culled from "Malicious Software". Malware refers to tool and programs designed to cause damage or perform unwanted tasks on a computer. Examples of malware include viruses, trojan horses, spyware, worms, ransomware, and adware.
These programs are capable to stealing user information, making the computer really slow, or crashing the whole system. The most common source of malware is the Internet, a more important reason why kids must play safe online. Here some safety measures to look at when teaching your kids about malware.
Kids must make sure they have the latest software on their devices. Outdated browsers and antiviruses can pose a threat to their online safety.
Kids must not visit sites they are not familiar with. These include forums and clones of popular websites. They must reject requests from websites to install applications, plugins, and the likes.
They must not install applications they are not familiar with. Especially applications which come with installers and third-party software.
No clicking of links and ads on the sides of webpages and in between paragraphs of posts.
4. Explicit Content
It is the wish of every responsible parent for their child not to get into contact with pornography. Research shows that children with an average age of 8 have been exposed to pornography. It's the responsibility of the parent or teacher to make sure kids are kept away from such explicit content. Here are some techniques to guide you to that.
Teach them the effects of pornography on their psychological, mental and spiritual health.
Encourage them to close the page or tab when they come across anything which is sexually explicit.
Introduce them to parental control software and how they will help them block websites with adult content.
5. Internet Addiction
Kids of these days spend virtually their whole day surfing the web, especially on social networks on Facebook. Kids between the ages of 8-10 spend an average of 44.5 hours a week in front of screens, which is very alarming. They become less social, spend sleeping hours online and get moody when offline. It's better to talk to your kids about cyber addiction before it gets too late. Here is a list of things you can consider when talking to your kid about addiction.
Health: There are many implications which may occur when kids spend too much time behind screens. For example, they may develop eye problems.
Teach them to take regular breaks when using the computer. Sitting positions are also important – show them how to sit when using a desk.
After teaching your kids Internet safety, it will be wise to create an Internet safety contract for your kids to sign. Let them have a copy so they always remind themselves of the do's and dont's on the Internet. You can download a premade contract from the Family Online Safety Institute.
Hope you enjoyed this article, 5 Things You Should Cover When Teaching Kids Internet Safety. What`s your tips to keep your kids safe on the internet? We would love to hear them below,