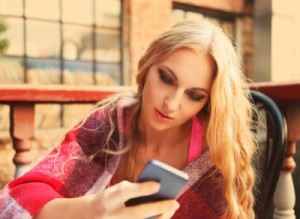 An average smartphone user glances at their smartphone at least 150 times a day, and chances for getting sore eyes are very high at that level of screen addiction.
Looking at brightly lit screens at night disrupts the body's sleep patterns and causes medical conditions such as insomnia, which also leads to obesity, heart diseases, strokes and depression.
Staring at your smartphone screen, which emits predominantly blue hue light, for too long can lead to dry, itchy, sore eyes and even headaches.
Here are 5 tips to to save your precious eyes from getting sore while watching your smartphone screen.
5 Tips if Your Eyes Get Sore Watching Your Smartphone Screen
1. Adjust Your Screen's Brightness
Having your screen too bright at night or too dark in the day stresses your eyes your eyes out and causes problems maintaining focus.
Usually on modern smartphones, the brightness of the screen is automatically adjusted based on the light surrounding you.
Since this is not always convenient, you can manually adjust the brightness of your smartphone using the following methods.
On iOS, simply swipe up from the screen's bottom and you'll see the brightness slider on the second row. Adjust the brightness by moving the slider towards your left or right.
On Android, swipe down from the top of the screen and you'll see the brightness slider at the very top of the notification panel. Simply adjust the brightness by moving the slider towards your left or right.
You may not see this setting as it varies with different Android devices. It's best you go to Settings > Display and Brightness to adjust your brightness.
2. Take Breaks
This may probably be the first time you've heard of the 20-20-20 rule. This teaches you to take a break from looking at your screen every 20 minutes for 20 seconds while looking at something 20 feet away.
This is sound a bit inconvenient but doing it relaxes your eye muscles.
3. Install F.lux or try other alternatives
F.lux is a smartphone app which simply adjusts your display's color temperature depending on the type of the day or amount of ambient lightening in your room.
At night, f.lux automatically reduces the blue in your screen and increases the red, reducing eye-strain and helps you sleep better at night.
F.lux is available for iOS and Android. In iOS 9.3 and above, there is a similar feature called Night Shift and can be found under Settings > Display and Brightness > Night Shift. On CyanogenMod and other custom roms for Android, this feature can be found under Settings > Display & Lights > LiveDisplay
4. Try Blinking
Frequent blinking keeps your eye moist, reducing dryness and irritation. Blinking about 10 times every 20 minutes keeps your eye wet and helps to refocus your eyes as well.
5. Don't Stare too Closely at Your Screen
Staring too closely (about 8 inches) to the screen is neither good nor advisable.
Try as much as you can to give enough distance between your screen and your eyes, at least 16 to 18 inches away is enough to give your eyes some comfort.