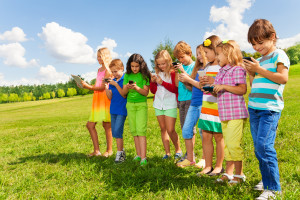 As parents our first priority is to protect our children, but in an age with internet and texting, keeping our children safe has become a whole lot more complicated.  What can we do to safeguard our kids from the estimated 50,000 predators online at any given moment? In this article we will cover 5 Tips on Texting Safety for kids to help keep our kids safe in this ever changing world.
5 Tips on Texting Safety for Kids
1. Don`t Text and Drive
Physical safety is important and kids have to realize that they can't text and pay attention to their surroundings at the same time.
Just like they can't play football and text their buddy, they shouldn't drive and text or walk and text at the same time. This is dangerous and in most places these days texting and driving is against the law.
When texting, explain to your kids that they must make sure that they are in a safe place, they should stand still and out of traffic, human or otherwise.
2. Stranger Danger Online
You must teach your kids to never give their phone number to strangers. This is the old "stranger danger" gone digital.
They should know that you have complete discretion about who is on their call list and if they ever get a text from someone they don't know, they should tell you immediately.
3. Know What They Are Up To
This brings us to monitoring, filtering and other parental control tools. Use them wisely, kids feel their phones are as personal as diaries, so use discretion and talk to your kids about what you are putting on their phone.
If you are paying for their phone you have every right to monitor and control what is done on it, however; it is still your kids phone and they do have the right and responsibility to a certain amount of privacy.
4. Respect
Teach your kids to be respectful to those they are texting and those around them. There is no guarantee that what they are texting will remain private and they should be made aware of this before a problem arises.
If it is a rule that they will be respectful with texting at all times, and that they expect the same courtesy  from anyone who texts them, then things like bullying and inappropriate texting should never occur.
5. Talk to Your Kids
Talk to your kids about sexting. It may be embarrassing, as much for you as it is for them, but this one is a big one.  Sending anything remotely sexual to and from minors can have legal consequences.
You don't want charges for child pornography being charged against you or your kids, and this is a real possibility with sexting.  New laws are trying to protect kids but they can also harm them or you.
If your kids receive a text with inappropriate images or language they should delete it immediately and let you know what has happened.
Bonus tip:
Open communication with your kids is imperative. In the digital age it is harder and harder to protect our kids.
Media has gone from mass; one size fits all consumption, to user-driven exchanges.  Kids need to understand the risks involved and have the internal mechanisms to deal with whatever comes their way.  They need to know that they can come to you for advice and that they are not to blame if someone does text inappropriate material.
Texting safety for kids is one lesson in our crazy digital world that cannot be ignored.  It seems harmless and fun, and should be, so long as rules are followed and open, supportive communication is given.