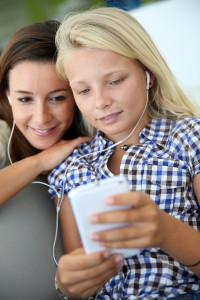 The Internet is a place full of learning and creativity for young minds. With this comes danger as well. Using the Internet presents many dangers for children as there are people online who are not who they say they are, inappropriate websites, and viruses. Since the age of technology is on the rise, it is not uncommon for many children to be using the Internet, some as young as 5.
Keeping your children safe online is something that every parent needs to do and there are different ways you can make sure your child is safely protected while online. Follow these tips below to achieve Internet safety for kids.
5 Tips to Help Keep Your Child Safe on the Internet
1. Privacy
One of the best ways to protect your child online is to warn them about their private information. Children do not necessarily understand how their information can have consequences. Your child has learned everything there is to know about his/her address, phone number, and personal data in case of an emergency; however they do not realize only certain people should be told this information.
You will want to sit down with your child and discuss with them why they should keep their contact information and identifying information a secret.
2. Rules
Another way to protect your child online is to establish rules. You can do this by placing the computer in an open area of the home and letting them know they can only access the Internet between certain times of the day. You can also establish a set amount of time that they can spend on the Internet each day. A child who spends 3 hours a day on the Internet is less likely to encounter problems than a child who spends 8 hours a day online.
3. Monitoring Software
One thing you may want to consider is monitoring software for your computer. This will tell you what websites your child has been accessing and all of their online activity.
Since smartphones are the latest rage, it is important to realize that children can access the Internet through them. Your child may be using their phone as a gateway to explore things online without your knowledge. Safety concerns should not disappear just because the Internet is being used on a small device. There are still harmful sites and questionable activities that can be performed as many sites offer mobile versions.
A cell phone monitoring service will allow you to keep an eye on your child's Internet activity on their smartphone.
4.    Parental Controls
Parental controls come in handy and should be used on your computer. You can set time out hours so that the Internet cannot be accessed and you can also block certain websites from displaying.
This is ideal, especially for young children as you can limit what they are able to navigate to.
5.    Listen
One thing that many parents may do when their child sees a questionable website is overact. This can then lead your child to hide their activity online and also keep you out of the loop. Make sure your child feels comfortable speaking with you.
Let your son or daughter know that they can come to you if they see something that is offensive or makes them feel uncomfortable. You must let them know that you are their safe haven and that they will not get in trouble for seeking out your help.