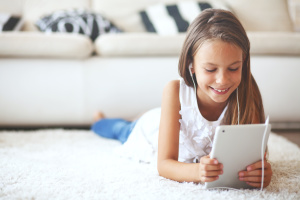 Tablets have become very valuable parenting resources. They either provide new ways of educating and informing kids or just entertaining them. Several apps, ranging from thinking games, social networking apps and video streaming apps make the tablet very handy for your child's usage.
However, these gadgets can be a very dangerous proposition if care is not taken. Kids can  be directed towards questionable content, rack up significant charges on your payment card or get exposed to harmful people.
Here are 5 tips to keep your child safe on their tablet.
5 Tips to Keep Your Child Safe On Their Tablet
1. Talk to Your Child About Internet Safety
It's a fact that kids spend an average of 12 hours every online and it may become a routine in the early stages of their life which may bring problems later on. It's important you start talking to your child about staying safe online.
From time to time, have little conversations about online safety – the do's and don'ts. As your child gets older, and technology changes, ensure you keep talking to them about what they do online and measures to stay safe.
2. Set up Parental Controls
Kids are naturally inquisitive and might want to explore more for themselves even though you've spoken to them. This is where parental controls play an important role. Parental controls help stop your child from accessing unsuitable and harmful content on the tablet or online. The first step to doing this is to use your tablet's built in parental control system. Here is a guide for iOS and Android users.
iOS
Go to Settings > General
Tap Restrictions
Enable Restrictions and create a passcode for Restrictions
You can restrict apps and features, access to content, changes to privacy settings and changes to settings and accounts.
Android
Open Settings
Go to Users and then select Add user or profile
Check out the list of apps shown and set your restrictions and fine-tune access options.
Switch from your current user account to the restricted user account
There are many 3rd party applications which allow you to do more, like Blocking websites, setting an allowed time for usage, monitoring apps and much more. These apps can be purchased from vendor websites or the app store. Read more about these apps here,
3. Know Who Your Child Talks to Online
Children think the people they've met online through social networks and online games are just friends and not strangers. As a result of several incidences involving children who met people online, it's so important to keep track of who your child is talking to.
Become friends with your child on social media networks so you monitor their posts and friends. Explain to them how easy it is for people to lie about themselves online, a reason why they must be very careful.
4. Explore the Internet Together
Ask your child to show you what do love to do online, and show an interest in what they do. This will give you a much better idea of they are up to. Introduce them to websites which are safe, with a lot of resources, so they can learn much more about the world around them. This gives you an opportunity to support and encourage them while you learn what they already know.
5. Train Your Child to Know How to Ensure Privacy and Report
It's important to go through the privacy settings of your child's online accounts and teach them how to keep their personal information private as much as possible. Also teach your child how to use reporting tools on various websites when they see inappropriate content or are contacted by someone they are not comfortable about.
What are your experiences with keeping children safe on their tablets? Share with us.