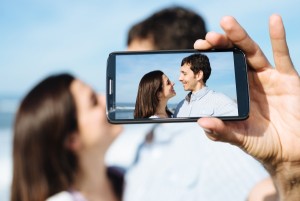 Camera performance has become a stiff competition within the Android ecosystem. Though smartphones have now turned everyone into photographers, keep in mind that photography is not an easy skill to master.
There are several things that go into taking great looking pictures and I'm here to show you a few tips for taking the best photos with your Android device.
5 Tips to Take Great Looking Pictures with Your Android
1. Clean Your Lens
Always keep an eye on your lens. It's like the eye – the most important part of your camera. Dust and oil stay on your lens as you handle your phone.
If your lens is dirty, your camera's vision will be crappy and none of the remaining four tips in this article will work.
Always remember to clean your lens and try to protect it from damage to make your images awesome!
2. Follow the Rule of the Thirds
You probably see a grid-like overlay on your camera's interface and probably wonder what that is. Learning the rule of thirds is most likely the fast thing you'll be taught in any photography lesson.
The idea basically says that your subject should be mainly placed on the intersections of any vertical and horizontal line. The rule of thirds won't help much there is a lot of dead space in the photo, leaving nothing interesting in the rest of the photograph.
Every smartphone has it's own option to enable to grid. Browse through your camera's quick setting to enable this feature.
3. Use HDR Mode
High Dynamic Range (HDR) is a feature found in most modern smartphones. This feature works by taking multiple images of the same focus at different exposure levels and then merged for the perfect lightning.
HDR ensures that the lighting and shadows in the photo are evenly exposed. Though HDR techniques vary from phone to phone, the results are always great.
If your Android phone has auto HDR, use it. HDR photos are larger in size and are not always necessary.
4. Avoid Zooming!
Zooming only actively crops and enlarges the photos you are taking, and this is known for destroying smartphone photos.
Though it's very convenient pinching and zooming in, it greatly decreases the quality of your photos and increases the amount of blurriness caused by your hand movement when taking photos.
The best way to zoom is to walk closer to the subject and get the best possible shot of it. Taking fully zoomed-out photos gives you more space for editing your photos.
5. Know When to Use Flash
The flash is used mostly for taking photos in dark and low-light areas. Because the flash is usually close to the lens, it often gives a glaring and unnatural look in your photos.
Use the flash when there is no artificial lighting on your subject, and if the natural light isn't suitable, increase the exposure value and ISO on your camera.
You can also try placing a thin white sticker over your flash to take away the harsh brightness it produces.