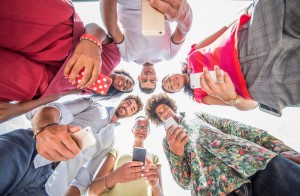 You can formulate what the best smartphone for you should look like. However, dreaming about a smartphone is one thing and grabbing one like it, is another. Buying a good smartphone has never been trickier, as it is now. So many developers have come up and all phones seeming to have the same features. While one of your friend has one brand, the other has another brand yet they both want to convince you that their brand is the best. It seems that you have little to trust. You must however consider some of the top variables before you buy your phone. Here are the top 5 considerations.
5 Top Things to Look at When Buying Your Smartphone
1. Phone size
It's a basic requirement. You just don't go about buying any other car size or clothe size. You have to look for a screen size that matches your needs. Smartphones comes in all types of sizes, with some being tiny and others being big. If you like it integrated, you should go for the standard sizes that are easy to carry around. That way, you will not attract attention carrying a massive phone. If you are the kind that likes gaming or watching videos, you will need a TV-like screen size. That means going for more than 5-inch screen size.
2. Camera
Some time back, phone cameras were not considered as important as they are now. That's because people knew that the best devices for taking photos were the specialized cameras. With smartphone developers upgrading features over time, the cameras have been much improved to support even the HD cameras. The need for external cameras is slowly fading. If you are the kind that loves selfie and quality clear photos, you will need to keep an eye on the camera specs. The bigger the pixel size, the better.
3. General system specs
There are certain product descriptions that you should never leave out. These include the RAM capacity and processor speed. When you are in need of a phone that can multitask and play games at high speeds, you will need to go for higher RAM and faster processor speed. Don't settle for anything less than 4GB. If your phone is just for normal use, you can go for the standard specs.
4. Battery lifetime
Your best smartphone will have a lot to offer. Features that will keep you wanting to hang around the phone. However, without a long lasting battery, these features will be useless. A phone that shuts down after hours is not worth it. To know whether a battery is long lasting, keep an eye on mAh specs.
Go for more than 3000 mAh.
5. Is it original?
You might think that you have landed your best phone with so many features while the product is only a sham. Many have been deceived to buy fake phones just because they appear like the real deal. To avoid deception, make sure that you are buying from a registered vendor. The price should also guide you. If all the features are there and yet the price is cheap, think twice.
These are just but the big 5. Other considerations including storage, wireless capabilities and whether apple or android are among the guiding variables.
What are your thoughts? 5 Top Things to Look at When Buying Your Smartphone?