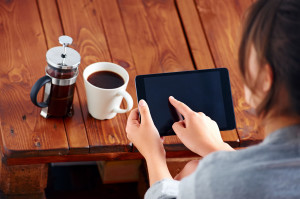 Amazon's Kindle is a great digital reader that has earned its place as one of the world's most highly utilized gadgets. Your Kindle is however more than just an eBook reader, it carries a web browser and email functionality and a payment method also needs to be setup.
When striving to keep your teen's online activities safe and secure, one has to remember that a Kindle also needs additional security and configuration in order to facilitate the safest experience online.
Here we take a look at five easy-to-implement methods that will boost security and safety online whilst using a Kindle.
5 Ways to Keep Your Teen Safe on the Kindle
1. Account Safety
If your teen owns their own Kindle, then it would be best to setup an email account for them, as well as their own Amazon account. In order to keep your credit / debit card out of use, one can opt for signing up for an Amazon account with a prepaid / gift VISA. This will give your teen a fixed amount of funds to shop the Kindle book store with, without any risk to your personal finances.
2. Parental Controls
A Kindle gives your teen three main facets through which they can connect to the internet, by implementing parental controls that are readily available on your Kindle one can secure the web browser, Cloud access and the Kindle Store. Using the Kindle parental controls one can disable any of these components.
For example if you wish to disallow the web browser, one can password protect the feature and switch it off, leaving your teen's Kindle able to only browse the Kindle Store and access Cloud storage. You can even disable all forms of connectivity, protected behind a password, allowing your teen to only browse the downloaded content on the Kindle.
3. Kindle FreeTime
Kindle FreeTime allows you to configure a section of a Kindle that is locked down and child-safe, protected by preconfigured (and customizable) filters and policies. FreeTime allows you to share books of your choosing with your child or children, and even provides reading targets and book recommendations.
Once configured, one switches your Kindle to FreeTime mode, and the only way to leave this mode of operation is by entering the password. Even restarting the Kindle returns it to FreeTime mode.
4. Household and Family Library
Household and Family Library is a Kindle feature that allows you to create catalogs of books, specifically with the aim to share them with particular members of your family. This is a great way to save on purchases, with Kindle Household and Family Library allowing for the sharing of content.
In order to create a family library, one needs to create a Household account, linking two Amazon accounts, or utilizing one adults and up to four children configured using FreeTime. Once setup you can download content, dedicate it to a library and decide with whom you will share it. This is a great way to distribute teen and family safe content without incurring any additional fees, simple to manage and highly effective!
5. App Blocking
On newer Kindles, such as the Kindle Fire, additional application such as YouTube are supported. One can easily block all apps, stopping them from functioning. Simply disable apps from you settings screen and you will no longer need to worry over inappropriate content being streamed.
Please note that FreeTime is an app, so if using FreeTime it is not possible to disable the app blocking feature as it will also disable FreeTime.