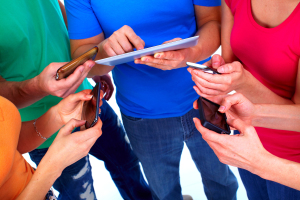 Last year, hackers leaked a huge number of nude photos online and the majority of those photos were from teenagers. New apps are released every day, but unfortunately, there are some potentially dangerous apps that you will want to keep you kids from downloading.
Most of these apps are surprisingly some type of social media which allow your kids to interact with the "bad guys",  see or share unwanted content, or hide from their guardians online. So here's my list of popular dangerous apps for kids.
6 Most Dangerous Apps For Kids, Know These
1. App Hider (And other application hiding apps)
App Hider allows you to hide any application you want from in a safe, password protected hiding place. It also hides your media, SMS, emails…everything!
What Makes It Dangerous?
This app allows your kids to hide their installed apps and their media. They may use this app with the intention of preventing you from seeing what they've installed. If you see any of these apps on their device, know they've got stuff you may not approve off.
2. Snapchat
Snapchat lets you send a message, snap a photo or video and send it to your friends. After a few seconds, the Snap disappears from the screen and is then deleted from their servers (I can't guarantee that).
What Makes It Dangerous?
Some kids use the app to send or receive sexually inappropriate messages, photos or video because they believe the images can't be saved or circulated. The truth is that the Snaps are not entirely lost even if it disappears from the screen.
The Snap can be captured by taking a screenshot before the Snap disappears or by using an imaging device. There is always a way to retrieve those images. It will be devastating to see your child's photos on a revenge porn website or being shared among their colleagues.
3. Violent Games
Violent games are video games in which gamers have to take aggressive and violent roles to complete missions. Each game has its level of violence ranging from mild to very excessive.
What Makes It Dangerous?
Children are more likely to pick up the behavior of the character with whom they identify. They tend to be more aggressive and may engage in a fight with their peers. This will cause many adverse effects like a decline in school achievements. You know what to do when you see your ward playing a violent game, don't you?
4. Yik Yak
This app shows the most recent posts from users 500 nearby users within a 5-mile radius. All users are anonymous and registration requires only your current location. A psychiatrist called this the most dangerous app because "it can turn a school into a virtual chat room where everyone can post abusive comments anonymously".
What Makes It Dangerous?
It exposes your kids to sexually inappropriate content, attacks against people, and offensive language. Your kids may start revealing personal information as the get more comfortable with other users. Several schools in America have banned the use of smartphones because of Yakked threats against their school, staff and other students.
5. Tinder
Tinder is a hooking-up and an anonymous dating app. Tinder helps people to find other people in their geographic location and allows them to start chatting once they have "liked" each others photos. Qustodio calls it the worst app for kids and advises parents to block that app immediately.
What Makes It Dangerous?
The anonymous nature of the app exposes kids to sexual harassment, cyberbullying, predators and much worse. Other similar apps like Down, Skout, Pure and Blendr also pose these same threats to kids.
6. Whisper
This app allows you post messages, confessions or secrets anonymously with people nearest to you which other users can either like, comment or share.
What Makes It Dangerous?
Although the app is meant for adults, kids can find their way to use it. These kids may find themselves sharing their secrets with ill-intentioned strangers looking to connect with and harm them. A 21-year old man in Seattle used Whisper to lure a girl into motel room and sexually assaulted her.
As I said in the beginning, countless apps are released every day and you can't always tell which app is healthy for your kid or not. As a parent, you need to know what your kids do with their phone. Stay in constant communication with them and make sure they use the right apps.
You can use monitoring apps like Qustodio and FlexiSpy to control what your kids do with their devices, but it all begins by forming a cordial relationship, leading them the right way and then setting the boundaries.