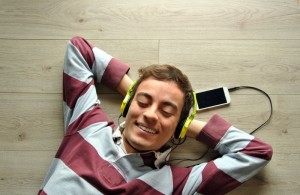 Your Android device can be transformed into a fully-fledged music production studio within a few free any easy downloads.
Here we take a look at the most functional and most powerful, free music production apps for Android. Once you have this collection you are well on your way to having everything you need to begin as an electronic musician.
7 FREE Android Music Production Apps
1. Music Maker Jam
Music Maker Jam by Magix is a recent addition to the simple yet popular Magix Music Maker series. This app allows you to sequence pre-recorded loops and samples, from either the library included or your own recordings, into songs.
It has a wide variety of sounds to choose from and the sequences could not be easier to use. Magix have provided the beginner music producer with a great free tool to start with.
2. Figure
Figure, made by renowned Propellerhead Software, is a loop creator of the highest quality. Without any know-how you can setup an extensive variety of loops, bass lines and melodies.
Figure is professional class sound production, minimal, but at its best. An extensive user-base is constantly sharing loops and samples through the provided platform, Figure. Need new sounds? Go Figure!
3. Caustic 3
Caustic 3 is a complete sound production application that gives you fourteen different machines to tweak, twist, distort and arrange your sounds and samples. Caustic 3 on your Android is the mobile equivalent of Reason, this is a great app! Powerful automation controls are provided and Caustic 3 works with the vast majority of controllers.
You are given a full mixing desk with a total of sixteen different effect types. The only downside is that you cannot save in the free version, but it is well worth checking out as you may find yourself eager to cover the low cost for the functionality provided
4. G-Stomper Rhythm
G-Stomper is a drum machine & step sequencer that will get you grooving to your own beats within minutes. Twenty four different machines are given, which translates to quite a range of scope in terms of your freedom of creativity. G-Stomper has real-time sample modulation and additional sample packs can be purchased.
You may never need them though as the mix of effects, filters and drum machines ensure endless options. G-Stomper can upload directly to SoundCloud, making it great for the up-and-coming musician who wants to keep his or her fans updated.
5. Looper
Looper is a great loop recorder, specifically designed with the beat boxer in mind. Up to six tracks between 1 and 32 beats each can be recorded. Track combining is easy.
Looper lets you record via your microphone, whilst it plays back a created loop simultaneously. You can set the speed of your metronome as well as being able to configure the visual indications. No effects are provided but as a straight loop recorder you cannot find better!
6. WavePad Free Audio Editor
If you need to remaster your audio track, remove silence, normalize loops, enhance levels, merge tracks or perform any other audio editing then you had need look no further than WavePad.
This is a great free app that carries the same functionality as high-end sound editors for desktop platforms.
7. edjing – DJ Music Mixer Studio
edjing transforms your Android into virtual turntables. Smart beat-mixing using intelligent BPM adjustment is featured. Slip mode can be activated for loops involving scratching.
The cross fader's curve is also fully adjustable. If you need to take a break just hit auto mix! edging is a great free virtual deck that is suited to both new sound producers and even the professional in a pinch.
What`s your favorite free Android Music Production Apps to use? Share with us below,