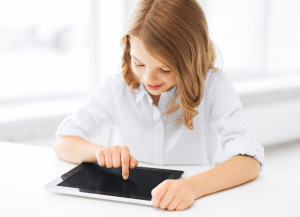 The iPad is a wonderful gadget: Kids use it to do virtually everything from playing games to taking notes to reading books and much more; It's also a great way for them to connect to their friends and the world around them.
iPad owners with kids are a privileged to have a restriction system which enables them to define control measures to control how kids use their iPads. You never know where your inquisitive child would be visiting on the internet, what apps they will be downloading and how much they spend on in-app purchases.
In this guide, I will introduce you to some ways to guarantee your kids safety when using the iPad. A locked-down iPad makes it much safer for your kids to use.
8 Tips for Safety iPad Parental Controls
1. Enable Restrictions
Enabling Restrictions on your kids iPad will prevent them from taking certain actions such as: installing and deleting apps, in-app purchasing, viewing certain content, using Facetime and much more.
To enable Restrictions, go to Settings > General > Restrictions and toggle on Restrictions. Enter a 4-Digit Restrictions passcode when prompted. Once you've created the passcode, you'll have access to all the Restriction options and all you need to do is turn on or off features the suit your needs.
You need to make sure your kid doesn't know the Restriction passcode; A tech-savvy kid may try using the same Lock Screen passcode and disable the restrictions. To disable Restrictions, toggle off off Restrictions and re-enter your passcode. All settings under Restrictions will be lost immediately.
2. Block/Allow Specific Websites
If want to prevent your child from visiting certain websites, setting up access controls to specific websites is just the right thing to do. Setting up website restrictions prevents your kids from visiting selected sites in Safari.
To set up website restriction should have already enabled Restrictions. Select the Websites button under the Allowed Content Group. Under this option, you see All Websites, Limit Adult Content, and Specific Websites Only. Select Limit Adult Content and the most well-known adult content website will be blocked automatically.
To add specific websites to always allow or block, select the Specific Websites option under Allowed Websites. To allow specific websites, use the Always Allow option and to block specific websites, use the Never Allow option.
You should try entering variants of blocked websites, for example, www.facebook.com and www.m.facebook.com.
3. Block Multimedia – Apps, Movies, Music, Books and TV Shows
Kids may stumble on media content which are not suitable for them. Even though the best option is not to put inappropriate content on kids iPads, it becomes difficult especially when the tablet is a shared one. Restrictions enable you to set age limits on various content.
Under the Allowed Content Group, choose the type of content you want to restrict. Set the age limit you want to allow and all the blocked contents will be hidden on the device.
4. Safety With Google Search and YouTube
These are services we use every day. Kids can search for anything with Google Search and Watch any video with YouTube. This can be disturbing when kids begin to search for inappropriate content. Enabling Google SafeSearch and Safety for YouTube certainly limit your kids exposure to inappropriate content.
To enable Google SafeSearch, visit the Search settings page and select the Filter Explicit Results checkbox. To enable YouTube Filter, press the Safety button on any YouTube page and turn on Safety Mode. You can also download the YouTube Kids App from the store.
5. Turn Of In-App Purchasing
Games can get really addictive sometimes and this can lead to kids buying stuff within apps worth a lot of dollars. Turning off purchases is the best thing to do to prevent your kids from making unnecessary purchases.
To do this, go to Settings > General > Restrictions and turn off In-App Purchases.
There's more to protecting your kids than just restrictions. You should consider these other tips too.
6. Use a Child Monitoring/SOS App
Child monitoring apps enable you to track and locate your kids movements in town, monitor their social media activity, place SOS requests in times of trouble and much more. There are decent monitoring apps out there which come at a cost. Here are some of the best child monitoring apps worth using.
7. Limit The Master Volume
Prolonged listening to loud music can damage the ear and your kids are too young to start wearing hearing aids. Setting the maximum volume for your kids iPad is just the right thing to do. To set an upper limit on music volume, open Settings > Music > Volume Limit and drag the slider down to the level you're comfortable with.
8. Talk To Your Kids About Device Usage
This is probably the most important safety point.
It's much better to sit and talk to your kids about how to use their iPads and how to stay safe on the Internet than just putting various forms of restrictions on them. It makes you a more responsible parent and enhances the relationship between you and your kids.
So, those are 8 solid points to for keeping your kid safe of the iPad (and iPhone too!). If you have any suggestions I've not mentioned, don't hesitate to put it in the comments below.