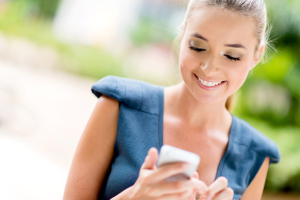 Today, there are 2.32 billion recorded smartphone users in the world. Every year this number grows by the hundred million. By 2020, users are predicted to grow to 6.1 billion- which is almost the whole global population. What would that future look like for us?
What would the succeeding billions of users experience with their smartphones? In the time of Siri, Paypal mobile, Bitcoins, YouTube and apps for just about everything, how much more innovative can we get with smartphones?
A Peek into the Future of Smartphones
Battery Charging
Let's start with the power unit of the smartphone- batteries. With the efforts (or rumors) today about having wireless charging features for iPhone 8 and charging power mats in businesses like Starbucks, the demand for better and faster battery solutions is apparent.
The future of smartphones suggests an actual wireless charging- wherein your device is independent of any other supplementary technology. One way this is possible is if the battery will have the same structure as wifi- wireless and omnipresent. Think about the many hours, money, and energy you save on not needing a charger. With the battery improved and removed from the smartphone, other features will have better performance.
The Screen
When the battery is either reduced or removed from the device, transparent and flexible screens can be possible. You might be thinking "Okay, so you have a see-through and bendable screen, what's the big deal?" Well, having a thin glass screen can potentially be a power source for the smartphone itself.
With a lighter and more powerful device, this can allow Virtual Reality and hologram functions- without having to strap on glasses on your face. That is a pretty big deal.
The Voice Control
If we list down the many ways Siri has frustrated us, we'd probably be in 2020 by now.- You can change this lol Siri was a pioneering invention that broke through as an idea but carried out differently in execution. The fact is voice controls can only interpret diction and syntax rather than recognize commands.
The efforts in the development of the voice recognition feature on smartphones can lead to a more seamless voice control. Moreover, features like identifying interactivity and gestures may also be in the works.
The Artificial Intelligence
With command recognition in better shape, your smartphone may also be able to learn how you interact with it over time. Currently, this happens to a small degree: your searches are remembered (unless deleted), your suggestions in a text are familiar, and your most used apps are on top of the search bar. But the future holds are a smarter smartphone.
Here, you'll be able to see news and updates based on what you are currently thinking, have suggested goals for the day based on routine, and maybe even find things you've lost based on your smartphone's memory. The integrative possibilities of you and your smartphone are endless.
In only four years, we can have a wireless battery source, holograms for FaceTime, a more compliant and sharp smartphone. Whether these studies and data are right, we have an exciting future ahead of us. Because who knows what other discoveries can be made on smartphones? Our technological efforts today will shape our lives tomorrow.
Sources:
https://www.statista.com/statistics/330695/number-of-smartphone-users-worldwide/
https://techcrunch.com/2015/06/02/6-1b-smartphone-users-globally-by-2020-overtaking-basic-fixed-phone-subscriptions/
https://www.forbes.com/sites/forbestechcouncil/2017/05/23/the-future-of-smartphones/2/#3e6072e816b3
http://www.hongkiat.com/blog/future-smartphone-features/