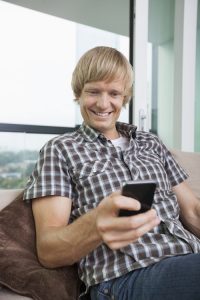 Sending text messages has been around for a while now and has been a staple part of our lives. We've all experienced it and if you haven't then… not sure where you've been. What's so great about text messages is that they're simple, easy, and if done right – really strengthen your relationship with people. That's why what Apple did with iMessage after its iOS10 update is just pure awesomeness and we'll be showing you why!
Adding Flavor to Your iMessages
Fun, Fun, Fun
iMessage is Apple's native online messaging app and it has pretty standard features such as sending texts (obviously), photos, videos, stickers, and GIFs. What really sets it apart from other messaging apps is the special effects you can add to your message! We'll be going through some of them but it's important to know that you can only send and receive these messages if both parties are iOS users.
How To Spice Up Your Message
What makes this feature so great is that it's amazingly easy to use. All you need to do is type the message you want to send on iMessage and (for iPhones with 3D Touch, press firmly) hold (for iPhones with no 3D Touch) the Send button. Once you hold the Send button a menu will pop up. Here you'll see the available effects which are: Invisible Ink, Gentle, Loud, and Slam. These are the effects you'll see on the menu and don't be afraid to test them out yourself!
Just to give you an overview Invisible Ink renders your message "invisible", requiring the receiver to "scratch" the message with their finger. This is a lot of fun, especially you're in the mood to play detective!
Gentle turns your message into a tiny bubble that quietly grows to its normal size. Coming from personal experience this is best used when you're trying to apologize (don't ask us what we did wrong). Although, it's really up to you on how you use it!
Loud is the exact opposite of Gentle and is best used when you want to get the message across in dramatic fashion. It upsizes your message and shakes it wildly before it sets down in place. If you're particularly mad about something this might be one way of showing it.
Slam is great when you want to make an impact or a grand entrance! Or when you want to surprise someone. Or when you want to show the person you're the boss. You get the picture. What it does it basically slams the message on the screen and you'll see this cool ripple effect! Very Hulk-esque if you will.
Message Away
As we told you above, there are a ton of ways you can send fun messages on your iOS device! It can help emphasize your point and it can even help you with an apology (apologies won't work though if you're not sincere so we can't assure this will work)! That's why we think this feature is one of the biggest highlights in the release of iOS 10. Let's just hope Apple brings in more effects for more fun!