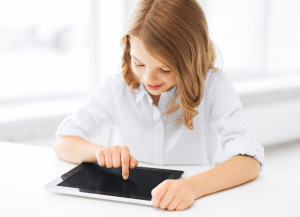 Your kid stumbling on an inappropriate website on the internet is probably one of the worst nightmares any parent can have. It's so scary because it's highly realistic especially now with so much information available at the tips of our fingers. Don't get us wrong, the internet is great and an essential tool that can better our lives but like any tool – it can be used wrongly.
So the question now is, how do you protect your kids from all the inappropriate content that the internet holds? Luckily, some thoughtful people out there in the world have been finding ways on how to address this problem. Amazon has done this and it's because of something you wouldn't really expect – the Fire Kids Edition tablet and a new dashboard. So parents listen up because in this article we'll be going through exactly what the new dashboard does and how it helps you protect your kids online.
Amazon's New Dashboard Gives Parents Peace of Mind
 A Parental Dashboard
The first thing parents need to know about this dashboard by Amazon is that it's accessible via any web browser at parents.amazon.com. This is great because that means you can access this dashboard with your phone, tablet, and/or desktop! Now on to the tablet.
The Fire Kids Edition tablet is a tablet specifically designed for kids (Amazon even said if your kid breaks it, they'll replace it for free). The moderators of Amazon approve all content shown on the device and this includes more than 8,000 books and 40,000 white-listed webpages so you can be rest assured that everything your kids will see is age appropriate
As for the dashboard, it allows you to manage and monitor your kids tablet usage. This includes how many minutes each kid spends playing an app, watching videos, reading ebooks, or just browsing the web. This is a great feature because it lets you know the online behavior of your kids and see which activities they enjoy best! It's a really intuitive way of addressing the issue of how parents can protect their kids online while letting them enjoy its benefits. The "Discussion Cards" Is
The "Discussion Cards" Is how you know what your kids are doing. These cards hold information regarding any kind of content your child uses such as a summary and it even allows you to ask questions! Amazon also inserted links to the review pages of these content in order to give parents a fuller picture of what they're child is accessing. It's not only other parents who answer these questions and provide summaries but they're pulled out from different sources such as app developers and teacher's guides.
For the Kids
Amazon has really outdone themselves this time and it's because they did what every business should be doing – listening to your customers. Majority, of the features found in the tablet and dashboard, came from the feedback of parents so you know they're really trying to provide great products and services that benefit their families. It's a great way to build brand love because at the end of the day everything we do is for the kids.