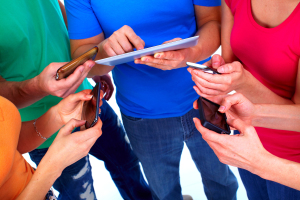 Recently, watches joined the band of smart devices. Since then, the smartwatch industry has seen a steady increase which hasn't stopped. In 2014, Google introduced Android Wear, a universal operating system for smartwatches that OEMs could load onto their smartwatches. If you're new to Android Wear, you'll be enlightened and educated by the end of this article.
What is Android Wear?
Android Wear creates a platform between your smartwatch and your Android phone (running Jelly 4.3 or later) or iPhone. The connection is established to your phone using Bluetooth or Wi-Fi.
This enables you to access some of your phone's most important features by just looking down at your wrist. You get notifications to texts, phone calls, and alerts from social media apps. It also performs more complex tasks such as running built-in Google apps like Maps, Notes, Fit and Hangouts. You can also stream music straight to your wireless headphones, set reminders and surf the web all with your voice.
Android Wear devices do not come with heavy vendor customization as found on Android smartphones. There is a bevy of Wear devices from companies like LG, Samsung, Motorola, HTC, Asus, and Swatch.
Android Wear Applications
Android Wear apps don't work like how they will on a regular smartphone. Wear apps are installed via the Google Play Store. Compatible apps on your smartphone will connect to your smartphone and offer you basic controls (such as navigating tracks or maps).
There are over 500 Android Wear-friendly apps in the Google Play Store, although there are much more outside the Play Store.  The apps and their basic settings are managed using and smartphone Android Wear app and it's possible to have more than one Android Wear paired with your smartphone at any time.
Interface
For starters, the touchscreen is smaller, and this means there's some limitation in navigation the watch. The software interface and gestures don't differ much between devices. The watch face is the home screen.
Swiping up and down reveals weather cards, calendar, and app notifications pushed to your watch. Swiping right dismisses the notification while swiping left reveals more options like the ability to reply and text with your voice or view forecasts for the week.
Android Wear becomes more interesting in exploring the features of each app. Google Play Music, for instance, lets you adjust the volume and control the music, without the need of touching your phone. The Hangouts app also lets you send or reply messages right from watch using your voice.
The card-based interface is one of best features of Android Wear. It makes your smartwatch feel more than just a supplement to your smartphone.
Which Android Wear Device Is The Best?
This depends on your personal preference: What you want your watch to do and how you want it to look. All Android Wear smartwatches are unique. Some use a curved Gorilla Glass, others use leather straps and some others have a rounded face. There's a bevy of devices for you to choose from.