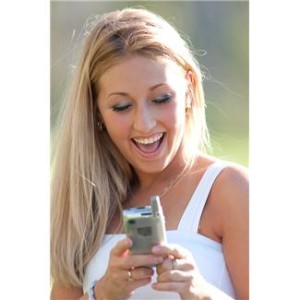 April Fools is a day that many people feel very light hearted and enjoy having fun and you can join in the fun and send April Fools text messages this year. This holiday is all about jokes and having a good old laugh.
There are many families that make it a tradition to prank each other every year and each year they try to outdo each other in an attempt to be the best April Fool's joke player. Since text messages are the new way of talking, you can easily send someone a joke text message without them even thinking about what day it is.
Below are a few different examples of funny April Fool's text messages that you can send out this year.
Funny April Fool's Text Messages
Text #1:
Studies say that only fools read their text messages by clicking with their thumb. Don't change the finger you are using now! Gotcha! Happy April Fool's Day.
Text #2:
Yesterday there was, today there is, and tomorrow there will be a heart that beats for you. Do you know who's? Yours! Happy April Fool's Day.
Text #3:
You are intelligent, you are courageous, you are smart, and I am the one who is telling everyone these rumors. Have a Happy April Fool's Day.
Text #4:
If you are feeling alone in the dark, call me and we can talk. When it is worked out and you are still in the darkness, pay your electricity bill. Ha-Ha. Happy April Fool's Day.
Text #5:
If you feel like you are all alone and you cannot see anyone, call me and I will take you to the eye doctor. Have a great April Fool's Day.
Text #6:
There is someone who needs you, misses you, and counts on you. Can you guess who? It is the monkey at the zoo. Happy April Fool's Day.
Text #7:
Hey there. What are you doing? If you aren't doing anything, can you make a place for me in your heart? I can come in there any time. Yours truly, Heart Attack. Happy April Fool's Day.
Text #8:
Time has taught me that friends are worth a million dollars and I had just one question for you. Can I sell you? Happy April Fool's Day.
Text #9:
Did you know that you cannot touch your tongue to your bottom lip? I bet you just tried too! Happy April Fool's Day.
Text #10:
You mean the world to me and I cannot live without you. Oh hi, don't mind me, I was just talking about oxygen.
April Fool's Day is a day to relax and have fun with your friends and family. These text messages are fun and also great to play on anyone. When sending prank text messages, remember not to make them too harsh because you don't want someone to take them out of context.
These top ten text messages are the perfect April Fools text messages and you can enjoy a day filled with fun while you send them and also receive them from all of your friends and family.