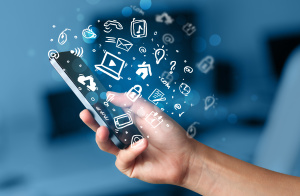 With recent terror threats related to the Middle East and the Charlie Hebdo shootings, UK prime minister David Cameron has come forward to suggest a set of new surveillance plans.
When talking about the problem with encrypted communications services like WhatsApp and Snapchat, David Cameron has asked, "In our country, do we want to allow a means of communication between people which we cannot read?" Typical communication methods such as phone conversations or letters can be read by UK security services in extreme situations if a warrant is afforded to them.
Unfortunately, both Snapchat and WhatsApp use encrypted systems that stop anybody from viewing information about messages sent on the platform. David Cameron has explained that such a system could be a valuable resource for terrorists, and a potential interference for UK security.
It seems clear that both WhatsApp and Snapchat are unwilling to allow the UK backdoor access to messages sent by their users. Even if it were possible for both companies to change the way encryption works on their message system, it would be unwise to open up the gates to the UK government.
Leaving messages unencrypted would give hackers an easy entrance into users messages, and it wouldn't just be the government that could gain potential messages to a user's message history.
For this reason, it's unlikely that the UK will be able to impose a surveillance system on encrypted communications apps. The other option for the UK would be to ban apps like WhatsApp and Snapchat entirely from the country.
This is an approach that could potentially be carried out by the UK government, but doing so would likely result in uproar. It seems the vast majority of UK individuals are against the idea of banning apps like WhatsApp or Snapchat, so it would be very unfortunate if the UK went ahead with a ban regardless.
It's unfortunate that acts of terror like the Charlie Hebdo shooting have occurred, but would taking away our online privacy help to prevent future attacks?
It would seem that even if Snapchat and WhatsApp were open to the government to spy on, potential terrorists would simply find another platform for communication. In previous attempts, the UK government has had little luck imposing such privacy laws, and it's certainly unlikely a Snapchat or WhatsApp surveillance plan would go ahead globally. The UK may be able to ban both apps from the UK app stores, but jurisdiction in other countries would allow users to use each service without any hindrance.
Personally, we think the banning of Snapchat and WhatsApp is ridiculous and we don't consider it that likely to happen. Platforms like Facebook messenger or other IM chats will always be available from the web, and even if they were banned from the UK, it's likely people would be able to find ways around the blocks.
Websites like the Pirate Bay have been blocked before, but it is rarely that long before other portals to the Pirate Bay are opened for UK users to access.