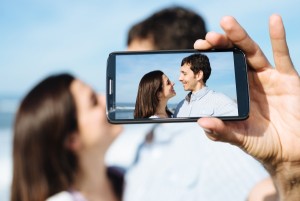 Megapixels…DSLR…Aperture…Selfie…iSight… These are some photography terms we meet often in our daily lives.
As smartphones are getting more powerful with more RAM and better cameras, sophisticated softwares are being produced every day to utilize the full potential of these devices.
In this light, we're going to look at Wondershare's Ava Photo app, a photo retouching app for iOS.
You may have countless photos of friends and families, but you know not all those photos always capture their best moments. There are countless apps used to retouch and edit such photos to make them look better and more presentable.
Ava Photo isn't an exclusion, but it uses a much lighter touch, cleans up blemishes and makes your photos look exceptional, unlike the others which could make your photos unnatural and obviously edited.
Let's take a look at what Ava Photo is made off.
Ava Photo Review
One-Click Auto Beauty
As the name suggests, this feature automatically does all the editing on your photos and touches up any skin imperfections. Whether it's a pimple or a spot, you can save time editing your photo by choosing between 5 beautification levels, from naturally autocorrecting to flawless retouching. With Auto Beauty, you get clearer photos that best matches your personality.
Filters
On opening the Filter, you'll see iconic celebrities like Bridgette, Cara, Audrey and Marilyn with different feels and touches. With over 20 filters to choose from, you can express your true fashionista and style by picking a from celebrity filters which suits you the most.
Blemish Removal
With the advanced blemish detection and removal tool, you can erase temporary blemishes,
acne or spots, leaving you skin looking flawless and even. You don't need to wait for blemishes to disappear before you take that wonderful photo. Ava will do the job.
Smooth Skin
Ava lets you eliminate small wrinkles and blemishes instantly. You can use this feature to transform your complexion however you want it while still giving the glow to your skin. Dull skins are now a thing of the past with Ava's skin smoothing feature.
Remove Dark Circles
Your eyes speak a lot about you. They're the first to tell whether you're stressed or growing old. Ava lets you remove the dark circles around your eyes and eye bags as well, instantly improving your look.
Defocus
This feature makes you the focal point of your photo. Not all camera apps have the feature of putting you in focus and blurring the background. With Ava's defocus tool, the focus will be on you, leaving out the blurry background.
Nightmode
Ava Photo has an intelligent light detection feature which provides just the right amount of additional like you need for photos in dark places. Taking a selfie in low light areas will no longer produce grainy, dull and blurry photos.
Prepare For Instagram
If it's not Twitter, it's Instagram. I know you love to post those beautiful photos on Instagram, but however, your photos might be oversized and might not look good on Instagram. Ava turns your photos into a perfect square, eliminating the need to crop them. You can easily add borders to your photos and share directly to Instagram. You can also choose from preset crop sizes for other types of sharing.
Sharin
Unlike other apps, You can easily share photos privately on SnapChat and Whatsapp. You can share publicly on Twitter, Facebook and Instagram too.
Price and Availability
Ava Photo is available on the Apple App Store for just $0.99 and requires iOS 6 or later. It's compatible with iPhone, iPad, and iPod Touch