BackupTrans for Android – is a fairly comprehensive Android backup and restore software package that comes with a wide range of features for a one time fee. For those looking to use the software for business, there is a yearly subscription fee that allows unlimited device usage whilst the subscription is active.
In this article, we are taking a look at the Android backup software to evaluate whether it's a worthy investment for Android users, and comparing it to other alternatives on the market.
Website: BackupTrans
Free Trial: Yes
Price: fr. $19
Use: SMS Backup for Android
The Price
I think one of the first things to mention about Android backup software is the price involved – many software and apps offer different functions and features, and the only true black and white element for comparison is the price. The software we are reviewing can be purchased for just $19 – this offers users the ability to use the software on three separate Android devices.
For usage on 8 devices, the one time fee goes up to $29, and unlimited device usage drops the one-time fee in favor of a $49 yearly subscription. Unless you've got a business to run, either of the one-time fee options are more than suffice for standard use.
Most Android backup software takes the subscription approach, and whilst they usually offer support for an unlimited amount of devices, the one-time fee is incredibly cheap and will save average users of the service in the long term.
It is important to note that this software only specializes in SMS backup, so if you have a large amount of data that you would like backed up, BackupTrans is most likely not a great choice. However, there are better alternatives when it comes to other backup features.
No matter what package you decide to purchase, you will always be given access to their fast customer support and lifetime updates will be provided, even if you decide to go for the one-time fee approach.
The Features
It's of course not all about the price though, and the features available in the backup software usually paint the brightest picture. Our first impressions give us the assumption that the software we are reviewing comes with a pretty standard set of SMS backup features, but taking a closer look reveals a few useful additions that make it useful for businesses that need to keep track of employee activity.
The one main feature of this software is to provide convenience and backup features for SMS messaging – this would prove to be incredibly important for business users, whereas these features may seem less important than typical file backup features that other Android backup apps can offer.
With the software we are reviewing today, users will be able to remotely and consistently backup all SMS messages to a computer, and this can be done throughout all connected devices. The SMS messages can then be managed via a computer, and owners of the software can choose to do a variety of tasks for reference purposes.
Users can print out threaded SMS messages, export SMS messages into document files, and manage SMS messages remotely with a range of different filtering and search features.
This software lacks any other data or file backup features, and it should be noted that it can only deal with SMS. This reason alone makes it a bad choice for anybody who relies on safe backups of their data, as there are many other more useful backup apps out there for Android.
This SMS backup software is perhaps best used for businesses that need to manage and monitor SMS messages – an example would be in the building industry – many builders communicate details about jobs via SMS, and backups tools in this software can be used to help summarize jobs that have been completed, along with timestamps related to the jobs that are done.
The UI on this software is also incredibly easy to understand and navigate, making it a good choice for anybody unfamiliar with using such technology. For those that do have experience with using similar software, there are more advanced options available that are typically kept out of sight for beginner users.
Screenshot – The Look on the Inside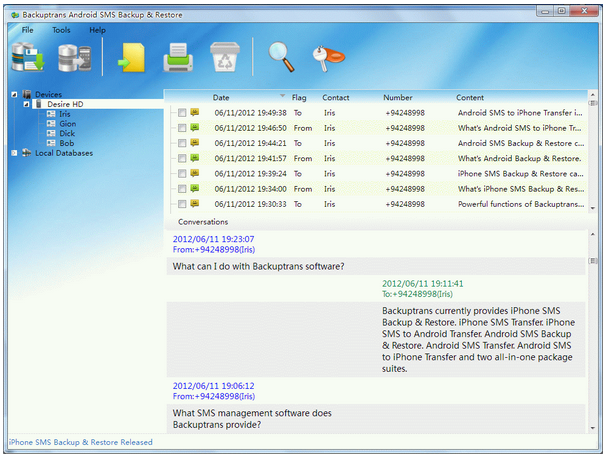 The Lack of True Backup
Whilst SMS backup services can be incredibly important tools to use for businesses that rely on text-based contact, like mentioned above, if you plan to use a service like this to keep hold of all your data, it's important to understand that there is a lack of backup features outside of the SMS related content.
This software can be used easily to back up all of your SMS messages, and should you ever need to reference them in the future, you will be covered, but if your smartphone crashes or breaks, all of the rest of the data, including photos, music, videos and other files will be lost unless they are already backed up to the cloud.
Make sure to keep this information in mind if you decide to buy.
Our Summary
Whilst this software comes with a wide range of powerful SMS backup features, it lacks any other backup functionality, making it a bad choice for those looking for true peace of mind over their important files. There are better options, that while may end up costing more in the long run, offer more safety when dealing with various types of files and data.
For business users, this software offers a larger benefit – the yearly subscription is still a lot less than many other monitoring services, and it's a great tool for those that only need to monitor or record SMS messages.
If you are a business that needs to keep tally of your employee's smartphone and SMS usage stats, then Backuptrans could perhaps be the best choice out there – it can also be used to record and store all sent SMS messages on any device connected to the service, so if you end up having troubles down the line, recorded proof of your SMS messages are always available through this service.