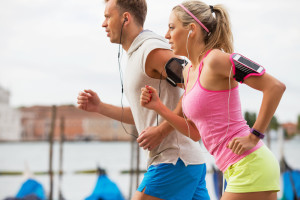 We're halfway through 2017 and we think it's a good time to assess which new apps help you become a better person. After all, that's what apps are supposed to do right? So without further ado, let's take a look at what 2017 has brought us in the App Store and in the Play Store.
Runtasty
There's been a shift in consumer behavior these past few years and more people are striving to be as healthy as they can be. If you're one of these people, you'll be glad to hear about the nutrition app called Runtasty.
It's an app that focuses on your nutrition by offering you recipes that specifically help you achieve your health goals. It may not have the most diverse selection of recipes but it filters them out based on your needs and goals. Are you packing on the protein to build more muscle? Runtasty will filter all recipes that have a bunch of protein in it. Very useful for people looking to improve their diet and health!
Wunderlist
If you're a busy person chances are you've tried to make use of an app that helps you organize your tasks since remembering all the things you need to do can be a pretty hard to accomplish. For us, Wunderlist is the app that can help you truly achieve this.
This Android app helps you keep track of all your tasks whether it's mundane or of urgent priority. It's very versatile and user-friendly with its interface so you'll have no trouble getting into the app and making the most out of it. The only downside from it is that there's a membership fee of either $4.99 a month or $49.99 a year. Still, that's a decent price especially if you're the type who has a load of responsibilities and can't afford to slip up.
Empower
Managing your finances can cause a massive headache but with Empower, it doesn't need to be anymore. This financial app helps you manage your finances by keeping track of all your bank accounts, credit cards, debit cards, etc.
You can see how much you spend and the app even goes as far to automatically transfer a portion of your income into your savings account. It saves you time and that way you can resist the temptation to buy those brand new shoes. Not only that but you can even transfer money between accounts of different banks!
The Great Courses Plus
The beauty of life is that we never stop learning! Gain some knowledge and put your idle time to good use with The Great Courses Plus app. It features lectures from renowned experts and university professors about their respected field. Interested in learning about Neuroscience? There's a lecture for that! How about Art Theory? There's a lecture for that as well!
Better Yourself This 2017
As humans, there's always room for improvement! With these apps, you can find exactly how you can better yourself and take a step towards the direction you want in life. Technology was created with sole purpose of helping people and that's exactly what these apps hope to do. What's great is that there are more apps out there and even more to come! Do you think we missed out some important apps? Let us know!