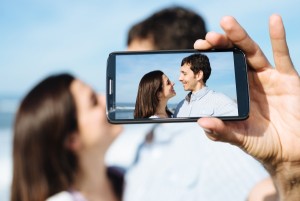 With today's more sophisticated features in an iPhone, speciality devices such DSLR cameras or 4K camcorders are a thing of the past. Even professionals use their iPhone along with some additional accessories to take photos now. Then why should you be any different? But how to excel at it, you ask. Keep reading for some tips and tricks.
Become an iPhone Camera Pro With These Tips
Focus Pixels sensor
This system helps you to automatically set a focus, along with auto- exposure. This includes focussing on face, or landscape or whatever is in the scene with the support of iSight camera.
Setting focus manually
Tap anywhere on a screen to dictate the point of focus when inside the Camera app. This would set the focus. This is extra helpful when you want to blur the background or the foreground.
Changing exposure manually
You have a slider to change the exposure to your desired level.
Locking your manual focus and exposure
You can lock using the AE/ AF Lock. This is extremely helpful when you realise that customized focus and exposure is required. And you want to retain your settings. Tap and hold anywhere on the screen for a while. You will see "AE/ AF Lock" appear in a yellow rectangle.
Auto HDR
This feature is on by default. It guarantees that the lens captures the same scene at 3 different exposure levels and combines them. HDR mode does not always give best shots, especially when there is movement in the scene. So to save normal modes as well, just in case, ensure that Settings> Photos & Cameras > Toggle "Keep Normal Photo" on.
Slo- Mo mode
This feature is extremely helpful to see something undetectable by the eye at original speed. You can decrease the frame rate to 240 per second by switching this mode on. It even can be further reduced to 120 fps, if you wish.
Well- defined Video Recording
This mode is perfect for creating small budget movies. You can capture all the action and edit for an awesome movie to hit the big screens.
Quick Access
Press the Home button to switch your screen on and swipe left to open the Camera app, for those times when you need a camera right away. Likewise, if you are already using your iPhone and need to take a quick shot, swipe bottom up and the Control Centre will appear with the Camera icon.
Grid
A 9- part grid assists with the Rule of Thirds, an important lesson in photography. For this, Settings > Photos & Camera > Toggle "Grid" on.
Burst Mode
Allowing you to take 10 shots within 1 second, it is useful to capture all the action in 1 frame with minimal blur. Holding onto the Shutter button for more than a second would activate this. This can be activated when using the main camera or the selfie camera.
Live Photos
In this mode, the lens capture a moment before and a moment after along with the intended moment. This then gets rendered into a proper 3 second video. This option is apt for capturing natural scenery or when children are playing.
Alternative to Shutter button
By default, your iPhone's "Volume" buttons are set to act as your alternative "Shutter" buttons. The same thing goes for your Apple earphones, the Volume button is also your Shutter button. Did you know?
Geotagging
It is up to you to keep this option on. It records the location of where you took your photos. To switch it on or off, Settings > Privacy > Toggle "Location Services" on or off. Having it on makes it easier when categorizing as per location. The places you visited can be easily correlated with the moment you captured, pinpointing it all on a map (perhaps helping you with your Geography).
Built- in Image Stabilization
There is coding and hardware built into the iPhone to deal with your unsteady hand when taking a snap or shooting a video.
Become an iPhone Camera Pro With These Tips!