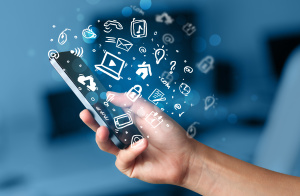 Your iPhone is much more than just a device that allows you to text, call, and play games. It's a tool. A tool that allows you to be productive in every sense of the word! Whether it's organizing your appointments, managing your e-mails, or even ordering your groceries, your iPhone can help you be the productive person you want to be.
Here's a list of what we think are some of the best productivity apps available on the App Store!
Best iOS Apps to Get You Productive
Evernote
What's the first step to being productive? Some would say it's taking down notes! Evernote does just that and it does it exceptionally well. You know what's the best part about it? It's free! Not only does it give you the ability to create notes but you can also create to-do lists and save whatever fancies you online. It's linked across your devices so you can access any of your notes on your phone, tablet, and/or computer. Whether you're a business person or just looking to keep your things and thoughts organized, installing Evernote would be a good place to start.
Tinycards
Having trouble with memorizing? Tinycards help you with that! It's a flashcard app that helps you memorize in a fun way! It's great because as you progress through different levels, it learns from your past performances. It uses spaced repetition and a variety of learning techniques that help you learn faster and more efficiently. That way you'll get to squeeze every minute out of your day! Note: The developers of Tinycards also created Duolingo, a language learning app, and using the two apps will take your learning experience to the next level!
Dropbox
This app is incredibly important for anyone who needs access to their files when they're out the house. Dropbox is well established in the tech world but for those of you who aren't familiar with this app we'll share why it's a necessity. Before backing up your data was a thing, there was Dropbox. So to put it simply, Dropbox is an app where you can put your files on the cloud and access them through your own personal account. Simple, right? It should be!
Wikipedia
In the age of information what better tool to have in your mobile phone than one of the world's most popular online encyclopedias? Being productive involves a lot of reading so with the Wikipedia app you can deep-dive into millions of articles for quick reading. Of course if you need to do comprehensive research then the Wikipedia app probably isn't your best bet because you want your facts to be verified.
There are a thousand of other apps out there that can fit the bill when it comes to being productive but we feel these are a good start for any person looking to squeeze every minute out of their day. From taking down notes to uploading important files to the cloud, these apps will surely help you in whatever field you're working in! We hope this helped and we're looking forward to hearing your thoughts on the Best iOS Apps to Get You Productive.