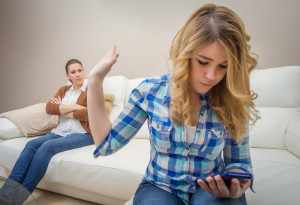 Although you may not think it, cell phone spyware is a necessity for parents to have. Think about it for a second. You give your kids a phone that has endless opportunities to get on the Internet and access data. They use their phones to play games, surf the web, and download apps from the app store.
Now think about all of the bad and corrupt information that can be on the Internet. Inappropriate material such as violence, pictures, language, and subject matter are not hard to find with a simple misclick. Monitoring what your children do on the web will help keep them safe overall.
Why Parents Need It
Parents need a cell phone monitoring service to watch what their children are doing when they are not around. It is not easy to keep watch on your child all of the time because you must run errands, work, and sleep. Even though you may not even think about it, your child could meet a stranger in a chat room and be sharing personal information without even thinking about it.
Cell phones transmit data and sometimes you never even realize they are. You may accidentally install an application or visit a webpage and now your child's phone number or address is visible. Yikes!
Benefits of Cell Phone Monitoring
One of the many benefits of using a cell phone monitoring service is that you can keep an eye on your child all of the time. Any information transmitted or received by the phone is also sent to your dashboard for you to view. This means that you can see any videos or pictures that your son or daughter is receiving and sending.
You are able to see who your child is talking to along with the person's phone number, or if on a social media website, their profile. This will allow you to monitor who they are talking to and when they are talking to that person.
Many of the monitoring services allow you to track the phone with GPS. This allows you to see where the phone is at all times and you will know if your child is somewhere they are not supposed to be.
Another benefit is that you can uninstall and block applications and websites with some of the programs. This ensures that your child is never downloading or accessing material that you do not want them to get their hands or eyes on. If for some reason they do download something, you are able to uninstall it.
Lastly, one of the major benefits of a cell phone monitoring service is that you can wipe the phone if it is lost or stolen helping to keep your family's information safe and private.
Is It Right for You?
Cell phone monitoring services are right for anyone who wants to keep an extra eye on their child. This program will allow you to do that and you will be able to rest easy at night knowing that your child is ultimately safe. Cell phone spyware is ideal for every parent and each one should be utilizing it.