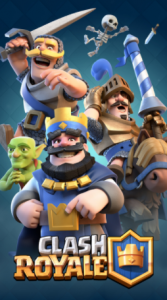 Mobile gaming still remains one of the biggest driving forces in the mobile landscape. It doesn't matter whether we're talking about Android or Apple users, one thing's for sure –people love mobile games. We've seen all kinds of mobile games invade our phones, from the rise of casual games such as Candy Crush to the console-worthy Infinity Blade. These may be old games but they're still worth playing if you haven't played these! But that's not what we're going to talk about today. Today, we're talking about Clash Royale.
Royalety
Clash Royale was released last March 2016 with much hype since game was developed by the makers of Clash of Clans. It's easy to tell because of obvious reasons such as the similar art style of the characters. Those are the only similarities you'll see though since Clash Royale offers an entirely different style of gameplay. It's simple, straightforward, but most importantly of all – crazy fun. For those new to the game, we'll offer a brief description of what the gameplay's like.
Clashing
Clash Royale players are ranked according to their level, trophies, and arena. The more clashes you win, the more trophies you get. Reaching a certain number of trophies advances you to the next arena where you can face players of the same level or rank.
Clashing is a 1v1 experience where each player has two towers and a King Tower. The objective is simple: destroy your opponent's King Tower within the time limit. If either player can't destroy the King Tower, the player who has more towers left standing wins. You have a deck which you can customize to your playstyle. You summon your cards to the battlefield with elixir which is a currency that regenerates over time. Each unit is different and has a unique role that can be utilized in different ways. For example, a giant is a slow tank with high HP that completely ignores enemy units and goes straight for the closest building. There's a long list of cards available and what's great is that there's no limit to what kind of deck you can build!
You're probably asking – how do I get new cards? You have 4 chest slots and with each win you get, you earn a chest that fills up one slot. There are different kinds of chests and depending on what chests you get, it takes a certain number of hours to open. The most common type of chest takes 3 hours to open but if you're in a rush you can use gems to open it instantly. With every chest you open, you get cards! The rarer the chest, the higher chances of getting rare cards. When you get cards that you already have, it stacks up until it reaches a certain number and when it reaches that number you can level them up to increase their stats.
Wait it gets better! This game wouldn't be as awesome as it is without your friends. You can team up with your friends and create your own clan and partake in different kinds of game modes. You can also ask help from your clanmates to level up your cards by requesting for cards that they don't need. 2v2 is also a new mode where you can partner up with a clanmate and battle with other clans! It's a whole lot of fun and it's enough reason for new players to give the game a try.
Updates on updates on updates
One other thing that makes this game so great is that it constantly evolves and never stays the same. The developers constantly update by balancing the cards and offering new cards every now and then for a more dynamic game. They also add more game modes that reward you for remaining undefeated. It's a game that keeps on giving! Clash Royale is dominating the mobile gaming scene and it's something you should try with your friends ASAP!