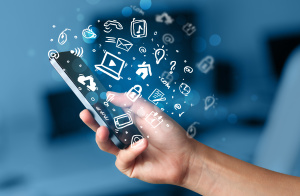 Even though iOS and Android OS are very user-friendly mobile operating systems, they still get clogged up over time with junk, making then run out of storage space.
This significantly slows your phone down, and until phone manufacturers figure out a way to provide unlimited storage, you're going to learn how to clean out your smartphone more often than not.
This guide should help you give your smartphone a spring cleaning of its own.
Cleaning Out Your Smartphone – iOS
Uninstall Unnecessary Apps
If you're the type who doesn't care to download all the apps in the App Store, it's about time you cleaned up your phone. Take a close look at the apps you rarely use or you don't like. Deleting them will free up your storage space and make your homescreen look orderly. Follow these steps to uninstall unnecessary apps.
Tap and hold any app icon until the app starts to shake.
Tap the small "x" next to app you want to uninstall and choose delete.
Press the home button to exit the "panic mode" and return to normal.
Organize Home Screen
After uninstalling your unwanted apps, categorize the remaining apps into folders. You can do this by following these steps.
Tap and hold any app icon until the apps begin to jiggle
Drag the app onto a similar app to create a folder containing both apps
The folder will automatically be named, but you can change it
Go back and repeat the process on other apps
Remove Duplicate/Unwanted Photos
Duplicate and unwanted photos consume quite an amount of your storage space. Removing duplicate and unwanted photos will go a long way in recovering megabytes to gigabytes worth of storage space for you. Follow these steps to remove unwanted photos.
Open the photos app
Go through your albums and find the photos you want to remove
Tap the delete icon at the bottom-right section of the window. Select delete photos to delete the photo from your device
Note: Your videos are also stored in the photos app. Deleting some of them will recover even more space.
Remove Unwanted Music
Sometimes you end up having so many songs on your phone you don't listen to anymore. Remove unwanted songs on your phone and keep only the ones you want. Follow these steps to delete them.
Open the Music App
Select the Songs tab to view the full list of songs
Slide right across an unwanted track
Tap the Delete icon
Tip: You can also use iTunes on your computer to manage the content on your iOS device. There is no need deleting songs stored on iCloud (which is indicated by a small cloud icon) because they do not take up your space.
Clean out your phone's memory
Deleting junk files, cache, and memory hogs keeps your iOS device running smoother and faster than ever. Manually clearing application caches and removing file data can be time-consuming. These apps make it easier.
PhoneClean
Download and install the Windows or Mac app here. Make sure you have iTunes installed first.
Plug your device into your PC or Mac
Open the PhoneClean app on your computer
Click Quick Clean and choose the criterias for cleaning
Click Start Scan
Go to the App Store, search for, and install Battery Doctor
Open the Battery Doctor app
Tap the Junk tab
Select Clean Up Cache and then Clean
Tap the Memory Tab and then Boost
From now you should see a significant improvement in the speed and performance of your iOS device.
Cleaning Out Your Smartphone – Android
As compared to iOS, Android needs more spring cleaning. With my experience so far, Android is smart enough that I hardly, ever need to clean it up. Here are some ways to clean out your Android.
Disable or Remove Unnecessary Apps
Many apps you don't use end up hogging your memory and storage space. There's also this problem of bloatware and other useless bundled apps. Uninstalling or disabling them will do your device a lot of good. Here's how to do it. Because of the diversity of Android, there are many ways of uninstalling your apps but they all follow a similar routine
Go to Settings > Applications
Tap the Downloaded tab to see the apps your downloaded.
Tap the app and select Uninstall, and confirm by tapping Okay.
To disable unwanted System apps
Go to Settings > Applications
Select the app you want to disable, say, Email
Tap the Disable button and confirm if prompted
Rooting your device gives you the opportunity to remove pre-installed apps which you otherwise, cannot normally remove.
Install Lightweight Launchers
Your phone launcher controls your desktop, app drawer, and other important parts of your UI. Sometimes your pre-loaded Launcher and other launchers you install consume a lot of memory and space and thereby reducing your devices performance.
Installing a lightweight launcher does not only give you a smooth user experience but a clean interface as well. Some of my favourite launchers include Zeam Launcher, Lightning Launcher, Apus Launcher and Smart Launcher. Here's how you install them.
Go to the Play Store and Search for your preferred app
Tap install and accept the permissions
From your apps drawer, select the app
Select your new launcher from the default launcher menu and tap always.
Clear your App Cache
Your applications create app cache as you use them. You can clear the cache at the same place you uninstall the app in the settings, but here are some apps that help you clean up your phone even faster.
CCleaner is a popular cleaning app for Windows and Mac now on the Play Store. It cleans your cache, call logs and other junk and monitors your entire system.
Clean Master is an optimizer, Speed Booster and Antivirus app for Android. It features an Applocker, Duplicate Photo Remover, Memory Booster, CPU Cooler, Junk File Cleaner and much more.
DU Speed Booster boosts your RAM, cleans junk files from your system and increases the available storage space on your device. Using DU Speed Booster is a great way to free your phone from unwanted junk.
Upgrading your phone or buying a high-end smartphone will keep you less worried about clearing out the junk on your smartphone. Cleaning out your smartphone, however, regains your lost space and helps boost performance on your devices.
Do you have any thoughts about these tips? Let me know!