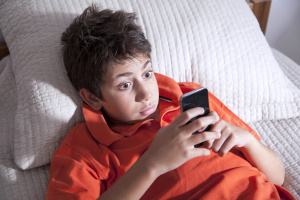 Cyberbullying is a very real threat that can be avoided quite easily, given that you as a parent keep a few factors in mind. Bullying in a practice that has been around for ages, and now given the digital era it is a threat that is ever-increasing on social media and other forms of digital communication.
Almost every young one demands a smartphone with dedicated internet access and whilst this is a great benefit, it brings with it the ever prevalent threat of cyberbullying.
Cyber Bullying is Real, 5 Things to Know as a Parent
1. Inform Your Kids of How to Deal with Bullies
Always establish a clear line of communication between you and your child. Make sure that they know that they can approach you about anything, but this is easier said than done! Inform your children that the attacks of bullies should be ignored and not retaliated on.
All social networks have more than enough tools to report abuse, be sure that your children know about them! Teach your kids to save any messages or communications received, printing them if necessary. Correspondence from the bully may be needed if you end up needing to speak to their parents.
2. Evaluate the Act of Bullying and Act Accordingly
Often children are too afraid to approach their parents when being bullied, as a result of them fearing that the situation will escalate.  Never take rash action, an infrequent online bully can often just be blocked, ceasing communication.
At times this is enough to get rid of the bully, as many are just seeking attention in any way they see capable. Try to explain motivations for bullying to your kids. Sometimes all that is needed to resolve the situation completely is ceasing communication and explaining to your child why the bully posted what they did.
If this does not sort out the problem, then you may need to address the bully's parents in person.
3. Discussing the Act of Cyberbullying with the Parent of the Bully
It is always best to discuss what has been happening with the parent of the bully, do not be tempted to retaliate and do not allow emotions to motivate you towards an outburst of anger or blame. The problem that you face as the parent of a child being bullied is equally as severe as issue that the bully's family has to deal with.
Ensure that you have any evidence necessary ready and on hand before meeting the offender's parents. Calmly schedule a meeting and state your goal, without anger or emotion. When meeting state the facts and allow the other parent to speak, they may be aware of factors that you are not. Whenever possible try to reach a solution whereby you work together to stop the bullying, it is far more effective that starting a heated feud which will get nowhere.
4. "Bullying" in Online Games
Bullying should not be mistaken for friendly rivalry and / or trash talk. Many games have many players acting in such a way that they could be mistaken for a bully. If your child is complaining about offensive activity in a game, be sure to calm and clearly evaluate the community through the browsing of forums, chat groups and community fan sites.
If it is found that your child is simply being "grieffed" or "trolled" without any direct targeting, explain this and if you really can't resolve the situation by means of communication then it would be best to help your child find a new game.
5. Monitoring Online Activities
When there is no other way and your child is really suffering at the hands of a bully, or a few relentless bullies, then it be best to track and monitor your child's online interactions. Whether you need to keep an eye on their smartphone and text messages, or their Facebook, there are solutions to assist you.
One should try to avoid full blown spying, as compromising your relationship as a result of invasion of privacy is a result that you don't want to reach. The monitoring of your child's online interactions can often reveal the source of depression, outbursts of anger and other emotional instabilities in your children.