To recover texts and other useful data on you iPhone you will need a software to do so. On this page we review the data recovery software Dr. Fone. Is this software what you are looking for?
Dr. Fone for iPhone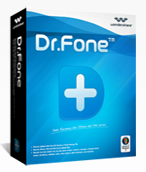 Website: Wondershare
 Free Trial: Yes
Wondershare came out with the first personal data recovery software for iPhone users, Dr. Fone.
Dr. Fone recover files for your iOS device, not only your iPhone but also files for your iPad and iPod touch, files that you thought were long gone.
There are two versions of Dr. Fone
Directly recover data from you iOS device
Recover from iTunes backup
Are you freaking out because you lost that important message on your iPhone? Did you do an update and now some of your data is gone? Did you damage your phone or even lost it and now you want all that crucial info back. There is ways to get not only recover your text messages but also your contacts, photos, videos, call logs, calenders and more.
Directly Recover Data From Your iOS Device
Dr. Fone recovers deleted data without any backup directly from your iOS device. Even when your device is broken, even when the system is inaccessible or even if you forgot your screen lock password. This software is compatible with iPhone 4, iPhone 3GS, iPad 1 and iPod touch 4.
This software makes data recovery easy.
Recover From iTunes Backup
Did you sync your iPhone with iTunes lately? This version of Dr. Fone will recover your data by extracting iTunes backup files. Even though all you did was hooking your phone up to iTunes they will automatically backup your files. If you happened to loose your phone or damage it pretty bad or if the phone was restored to factory settings or even if you lost data after failed upgrades or updates you can still get your data files back.
This software is compatible with iPhone 5, iPhone 4S, iPhone 4 and iPhone 3GS. It is also compatible with the iPad tablet and iPod touch 4.
What Kind of Files Can I Recover with Dr. Fone
There are 12 kinds of different data that you can recover with this software.
Photos
Videos
Photo stream
Message attachments
Audio in voice memos
Text files like contacts
Messages
Call history
Calendar
Notes
Reminders
Safari bookmarks
What If I Just Want to Recover Some Data?
That is totally ok, you get to preview and organize the data before retrieving it back to your phone. This allows you to read messages and preview contacts, it lets you organize the data in a manageable way.
Go check the reviews out, see if this is a software for you. Good thing is there are help to get if you happened to lose important information on you iPhone. Dr Phone data recovery software for iPhone might be the software that you need!